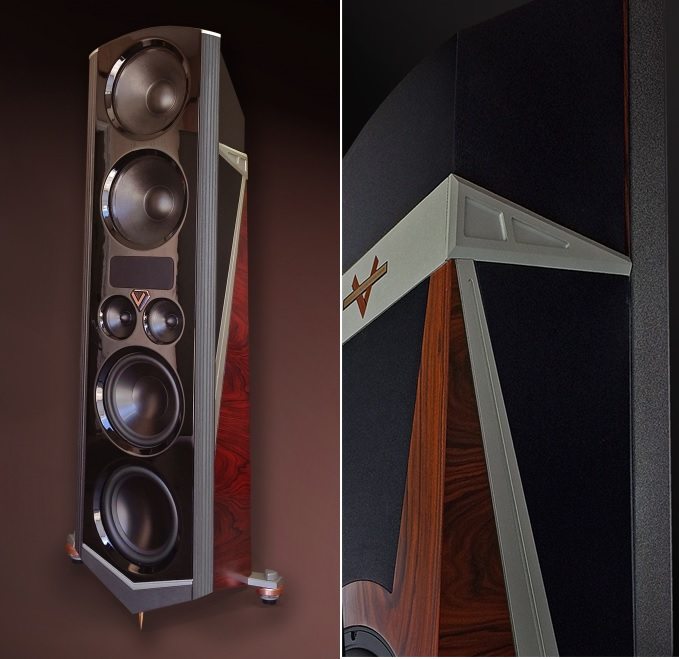 Legacy Audio is set to debut their new Legacy V speaker system at T.H.E. Show Newport. The new system is a Legacy Audio first to include the Legacy Wavelet processor. The Wavelet is a preamplifier, four-way crossover with time alignment, complete speaker and room resonance correction, and a high-end DAC with apodizing ability all-in-one. The Wavelet allows for the preamp and DAC to be bypassed with one touch of a button. Legacy has incorporated the revolutionary Bohmer acoustic processing into the Wavelet, allowing for optimization of the loudspeaker/room acoustic transfer function in both the frequency and time domains. The process starts with a psychoacoustically based measurement method using the provided calibrated microphone. Alignments are individually optimized within a 40ms window either through an iPad, smart phone or computer. The optimized result has been designed to provide an audible improvement in transient response.
The Legacy V is the first system to use the new dual 4" long Legacy AMT neodymium tweeters, arranged in a specially optimized post convergent array that masterfully presents treble which extends up to 30kHz. Building upon the advances first developed for the award winning Aeris speaker system, V features open air dual 14" carbon/pulp drivers delivering detailed and spacious midrange and midbass.
Legacy Chief Designer, Bill Dudleston, integrated a 12" aluminum bass driver boasting a massive magnetic structure with another 12" aluminum very low frequency radiator which drives three 10" mass loaded pneumatic radiators. This provides the highest excursion at the longest wavelengths with superior dynamic response. The V speaker system even shapes low frequencies into a cardioid pattern to avoid room coloration. The low frequencies are amplified by integrated 1500 Watt ICEpower amplification.
An new V cabinet that features real wood veneer, a high-gloss baffle, and machined aluminum trim make a true statement. There is also elegant gentle illumination from within the center of each tower.
The Legacy V System will have a MSRP of: $49,500 U.S. Look for more information to be made available at: http://legacyaudio.com/products/view/v/