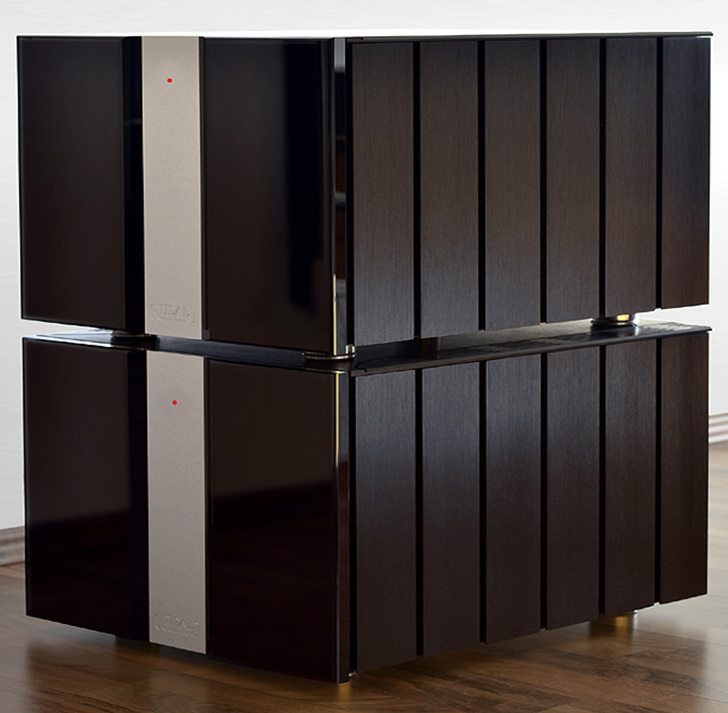 Tidal Audio from Germany just debuted a number of their latest products at the Munich High End 2015, A system consisting of the new Camira D/A Converter, Presencio Reference Preamplifier, the new Assoluta Monoblock power amp, and the new Akira loudspeakers was demonstrated.
The new TIDAL Akira uses the exclusive driver-and-cabinet technology of the La Assoluta in a 1.40m tall speaker for smaller or medium sized living rooms. The Akira does offer full range performance, delivering upper bass / lower midrange with the a pure diamond diaphragm that is perfectly linear and time coherent.
The Camira, Tidal Audio's new top-of-the-line digital-analog-converter uses a completely descrete NOS (non-over-sampling) ladder-DAC structure with an unique Iso-Recklock technology which makes it independent of digital sources. It has the option to add a UPLS level control linedeck to a complete 3-stack solution for the ultimate line level/digital input solution.
The Assoluta Monobloc is a true mono channel amplifier with an active regulated power supply for all the current parts and all the voltage parts. 3 huge silver hollow-conductor EMV transformers, complex 4-layer PCB boards and the complete absence if signal wires. A completely new way of "cold-welding" the transformer output cables directly into the in-house made PCB-boards is used to maximize performance. Specifications of the new Tidal Assoluta Monoblock are as follows:
•Tidal's proprietary linear power supply that accurately regulates the voltage and current with 330,000uF capacity per channel.
•Three Tidal's proprietary transformers with pure silver, surface polished hollow conductor winding. Each transformer is magnetically shielded and temperature controlled in a resonance damped cabinet.
•Cold welding on all termination for lowest resistance and stable contact area.
•No coupling capacitors in the signal path.
•Multi-layer PCB with 4 x 105 uF layers.
•Ultra-low impedance capacitors directly at the transistors
•Weight: 85kg
•Dimension: 60cm L x 44cm W x 32.5cm H
•Power: 360W/8ohm, 700W/4ohm, 1,200W/2ohm
•Power Supply: 3 x 800VA transformers
•Linear Power Supply: 1 x 2,000VA
•Bandwidth: More than 500,000Hz
•Distortions 25W/4Ohm: Below 0.01%
•Distortions -1dB below max power: below 0.08%
Pricing and availability for North America is yet to be announced. Look for more details at: http://www.tidal-audio.de/