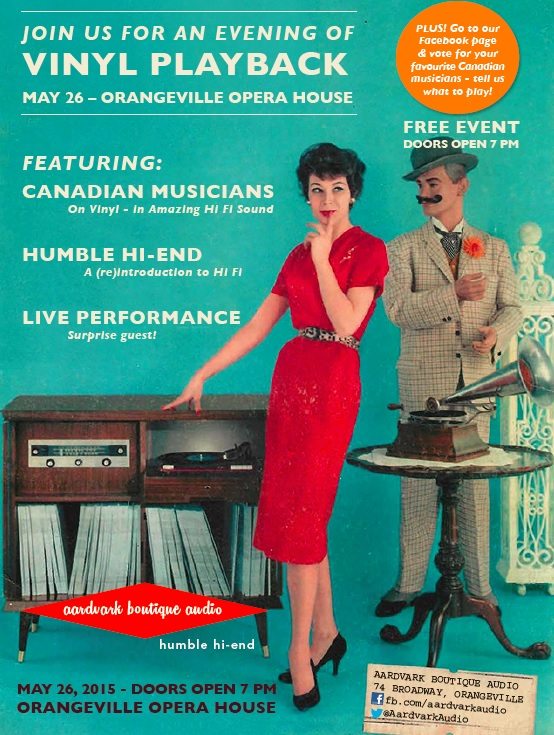 The Aardvark Boutique Audio store launch and vinyl music event is just a week away – happening on Tuesday May 26 at the Orangeville Opera House (87 Broadway, Orangeville, ON L9W 1K1). Doors open at 7 p.m. with the musical festitivites to begin at 8 p.m. The event is FREE and open to all.
Aardvark Boutique Audio will focus on a very select line of high value hi fi audio components all designed, in the words of Peter Wolter, boutique owner, "to introduce, or re-introduce the full emotional and visceral impact of recorded music – in other words – hi fidelity to the original recording."
Join other music lovers and hi fi enthusiasts in what promises to be a truly unique and remarkable one of a kind musical event, which will include:
Two 40 – minute sets (and a special live performance) will feature:
• a world-class tube amplifier from Finale Audio – delivering 40 watts of glorious tube power
• turntables from Thorens (the classic 350) and Funk (Vector V) to spin the vinyl…
• and speakers (Spendor/Devore/Gemme) that will bring all the impact & emotion of the original recording.
To nominate Canadian artists you would like to hear on vinyl – please visit the Aardvark Boutique Audio Facebook page https://www.facebook.com/aardvarkaudio
If you enjoy music and are at all curious about the renewed interest in vinyl (and tube amplifiers!) this is the event to be at. Be sure to visit the Facebook site and announced your intention to attend: https://www.facebook.com/aardvarkaudio