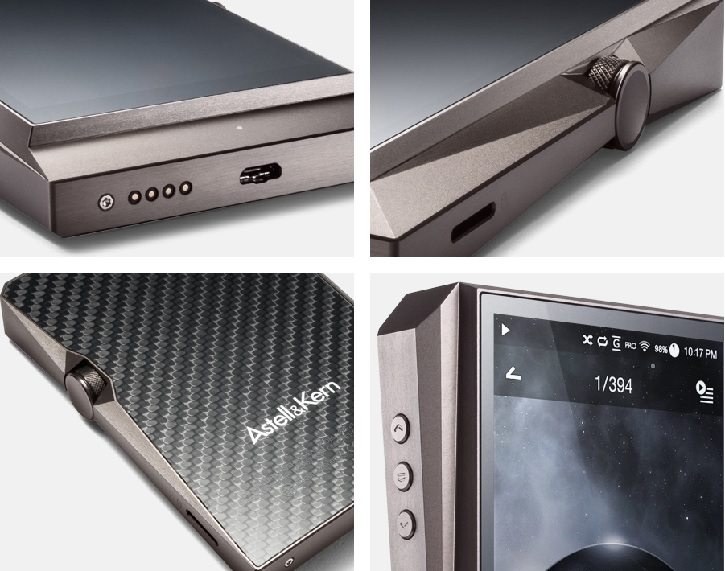 Astell&Kern has announced its newest flagship portable hi-res audio player, the AK380. This latest player has been designed to please professionals and audiophiles who demand the very best.
The Astell&Kern AK380 was debuted at the The Hi-End Show in Munich 2015 in May and will also be demonstrated at T.H.E. Show, Newport Beach May 29 – 31, 2015.
The AK380 is the first portable hi-res audio player from Astell&Kern supporting native playback of 32-bit/384 kHz PCM high resolution audio files. The new AK380 features two AKM AK4490 DAC chipsets, creating a true Dual-Mono setup that gives clear channel separation, broader dynamic range and wider soundstage. The AK380 can playback up to 32-bit/384kHz PCM and single-rate and double-rate DSD high resolution audio natively, without conversion.
Utilizing the microUSB jack and new 4-pin balanced out jacks on the bottom of the player, the AK380 slots into the expansion docks, providing a high quality connection without adding additional bulk to the player. Some of the expansion docks and accessories are as follows:
•AK380 AMP – A portable amp that provides the AK380 with greater power output to drive a wide variety of inefficient headphones and IEMs without the need for added cables and another device to carry.
•AK380 Cradle – A docking cradle that provides a convenient and secure place to put your AK380 while charging via USB or using the player as a USB DAC. The new AK380 cradle also features balanced outs to use the AK380 as a high-res source for a 2-channel system.
•AK380 CD-ROM – An external CD-ROM drive that allows users to rip music from discs directly to the AK380, without the need for a computer.
The AK380 has built-in DLNA 1.0 support, allowing users to wirelessly stream music from any DLNA compatible NAS or device on your network. With the AK Connect app for iOS and Android-based smartphones and tablets (coming soon), you can control playback on the device and stream music located on your device directly to the AK380.
Other features include a 4-inch high-resolution TFT-LCD screen, 256GB of internal memory with one microSD card slot supporting up to 128GB microSD card for a total of 384GB of storage and Bluetooth 4.0 support. The AK380 offers finer EQ settings over previous Astell&Kern models using a Parametric EQ capable of 0.1dB increments over 20 bands. Previous models offered EQ settings of 0.5dB increments over 10 bands.
Like the Astell&Kern AK240, the new AK380 features a duralumin, aircraft grade aluminum body, unbalanced and balanced analog outputs that allows the user to use virtually any headphone or earbud on the market; Wi-Fi connectivity to download music wirelessly to the player from a computer or network storage device and provides the ability to wirelessly stream music to the player without downloading music to the player first and the ability to use the AK380 as a USB DAC, allowing the owner to connect the player to their computer to bypass their internal sound card and get high resolution sound from their PC or Mac desktop or laptop.
The Astell&Kern AK380 is expected to be available soon for $3,499 U.S. Look for more information at: http://www.astellnkern.com/