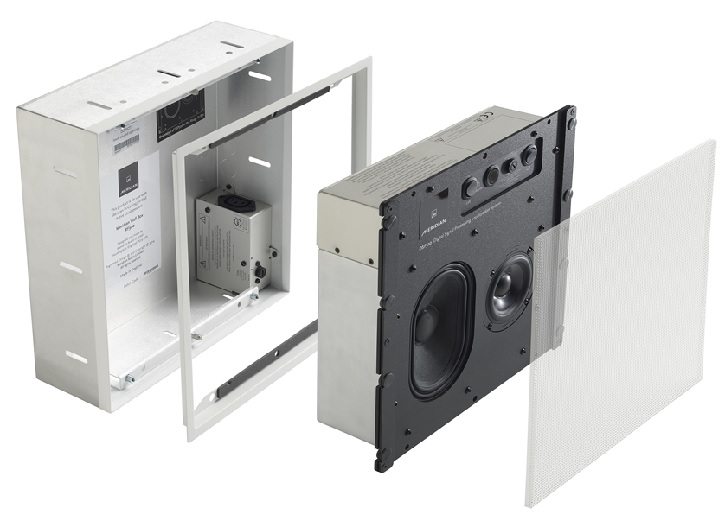 Meridian systems aim to provide the closest possible recreation of the original musical performance for the listener. Keeping to this objective but aiming to please those who prefer unseen equipment, Meridian is launching their new compact in-wall/in-ceiling DSP320 loudspeaker.
The DSP320 in-wall/in-ceiling loudspeaker is designed for in-ceiling use while also being slim enough for an in-wall set-up. It is designed to deliver a similar tonal signature and performance to Meridian's free-standing DSP loudspeakers, yet sit discreetly within a wall or ceiling, virtually unseen.
Like Meridian's current DSP520, the DSP320 has been introduced specifically to deliver wide dispersion for maximum listening area, with minimum unwanted diffraction thanks to careful baffle and grille design. The on-board DSP provides thermal and dynamic bass protection with very accurate transients, ensuring that when the loudspeaker is played at high levels, even over prolonged periods of time, the loudspeakers always deliver a clean, detailed and accurate sound.
Key Features:
• Compact 300mm (12in) square design only 100mm (4in) deep* delivers full DSP loudspeaker performance in-wall (*approx.)
• Back-box and frame system allows simple and easy installation, with the flexibility to ensure precise positioning
• 2-channel, high power amplifier with linear power supply, DSP crossover, setup controls, IR sensor
• Fire-rated rough-in box with AC connection and mounting hardware
• Damped, high-rigidity aluminium acoustic enclosure with internal mineral-filled midrange enclosure
• High rigidity aluminium baffle with Bass/Wide Range drive units and high contact magnetic grille clamping
• White scrim under high precision plated steel, paintable, matt white grille.
• DSP-based design delivers superior performance to conventional designs – equivalent to an enclosure of eight times the physical volume.
• Features "Racetrack" oval bass driver, and the same 85mm wide-range driver as the DSP520, for full-frequency response
• All aspects of the design including baffle and grille have been developed for maximum dispersion and listening area plus minimum unwanted diffraction
• Ideal with DSP520 and stand-alone Meridian DSP loudspeakers, with complementary sound.
The new Meridian compact in-wall/in-ceiling DSP320 loudspeaker is currently available, though pricing is yet to be announced. Look for more details to be shared at: https://www.meridian-audio.com/