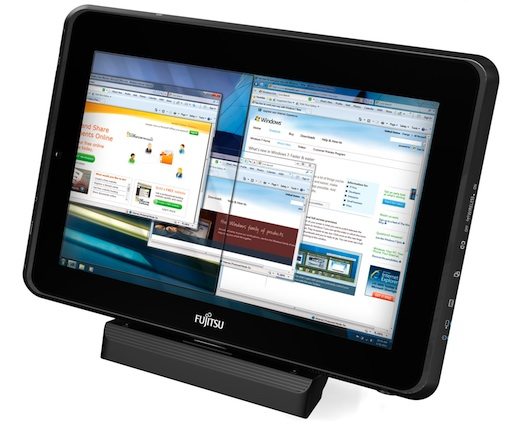 News about Tablets are continue to trickle out from the industry and the latest of these is from Fujitsu.  The company's STYLISTIC Q550 is said to be an executive class slate PC designed for the high-security requirements of mobile enterprise computing.  It should be available worldwide starting in April 2011.
The Fujitsu STYLISTIC Q550 Slate PC builds in security from the ground up, so that it meets the most stringent ICT security requirements of governments and businesses. The Fujitsu STYLISTIC Q550 is developed to meet enterprise mobile computing demands and integrate seamlessly into existing ICT infrastructures.
As enterprises struggle to keep consumer smart phones and tablets off their corporate networks to avoid security breaches, Fujitsu is taking an alternative approach with the introduction of a companion device designed for maximum interoperability with business environments. Seamless integration is provided with the Microsoft Windows 7 operating system. Additional licensing and rollout costs are capped since the slate PC uses the same software already deployed in enterprise infrastructures.
Usability features also help set the Fujitsu slate PC apart from other mobile devices. The STYLISTIC Q550 is distinguished by elements such as full work day battery runtime and a brilliant anti-glare 10.1-inch screen that allows for use both indoors and outdoors. Seamless connectivity comes through the inclusion of WLAN, Bluetooth and optional mobile broadband 3G/UMTS, enabling collaboration such as the sharing of documents while on the move.
Along with excellent ergonomics, Fujitsu makes mobile data entry easier by combining a multiple touch interface with precise and pressure-sensitive pen input. The STYLISTIC Q550 automatically recognizes when users are working with a pen, allowing them to rest their hand on the screen when writing. Built-in handwriting recognition software converts input to text. When the pen is not in use, the slate PC automatically readjusts to a touch interface.
Highlights of the Fujitsu STYLISTIC Q550 include:
– The STYLISTIC Q550 runs on Microsoft Windows 7 and is compatible with Windows multi-touch capabilities. Users can control applications and input text by touching the screen simply with just a touch of their fingers or by the attached stylus.
– The STYLISTIC Q550 is equipped with a next-generation Intel Atom CPU that is energy efficient, and features superior performance. By making full use of Fujitsu's proprietary power supply control functionality, the new series provides effortless operations using a large-capacity battery that can power the slate PC's 10.1 inch screen while still providing full work day battery runtime. Furthermore in terms of maintenance, the battery is removable. The overall unit weighs only 680g when a standard battery is inserted.
– The STYLISTIC Q550 can connect to IEEE 802.11n/a/g-compatible wireless LANs and wireless WANs, thereby enabling high-speed network communications. This in turn, makes data communications in a cloud computing environment effortless and helps to facilitate smooth business operations.
– As the STYLISTIC Q550 runs on Microsoft Windows 7, customers can deploy the slate PC without having to make changes to existing Windows-environment security resources and operations management systems. Moreover, through its unique product design process, Fujitsu has engineered the slate PC to incorporate a variety of technologies—such as fingerprint authentication, smart card reader, embedded security chip, and encrypted SSD—that enable the development of even more robust security systems, an important feature for enterprise customers.
For more info, please visit www.fujitsu.com.