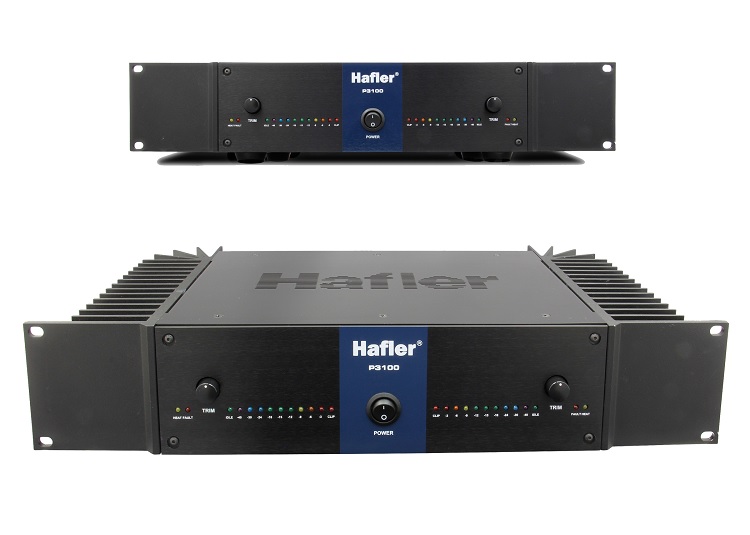 Hafler (a division of Radial Engineering Ltd.) has announced an all new 2-channel power amplfier – the P3100 2-channel amplifier. The P3100 has been designed for both studio recording and audiophile listening, and goes with Hafler's original philosophy of offering the very highest quality at an affordable price point.
The P3100 is both elegant and robust. It produces 150 watts per channel into 8 Ohms, 200 watts per channel into 4 Ohms and may be bridged mono to produce 400 watts. With extensive heat sinks on both sides, the P3100 does not require noisy fan cooling. Lateral MOSFETs were designed specifically for linear audio amplifier applications with their high speed and superior sonic characteristics, compared to the vertical MOSFETs and bipolar output transistors used by most other amplifier makers.
Front panel features include individual trim controls along with an elaborate LED display for precise monitoring with signal presence and overload. The power switch is equipped with a 'soft start' circuit that prevents sending potentially destructive turn-on and turn-off transients to the speakers. A thermal sensing network monitors the heatsink temperature and shuts down the amplifier to protect from excessive operating heat. The need for internal fuses has been replaced with a sensing circuit that monitors the output and shuts down operation when it detects a short in the output load. The rear panel sports a choice of balanced XLR and ¼" TRS inputs for professional use along with gold-plated unbalanced RCAs for the audiophile. The speaker connections are No Touch binding posts – compatible with modern safety standards.
This latest generation of trans-nova amplification introduces a toroidal power transformer to the circuit, replacing the older E lam type. Toroidal transformers have a lower output impedance and produce far less noise than conventional transformers, resulting in a tighter bottom end. As well toroids are inherently self-shielding which improves the amount of potential low frequency and rectifier noise introduced into the audio.
The Hafler P3100 will be available in July 2016. Look for more information to be released at: http://www.hafler.com