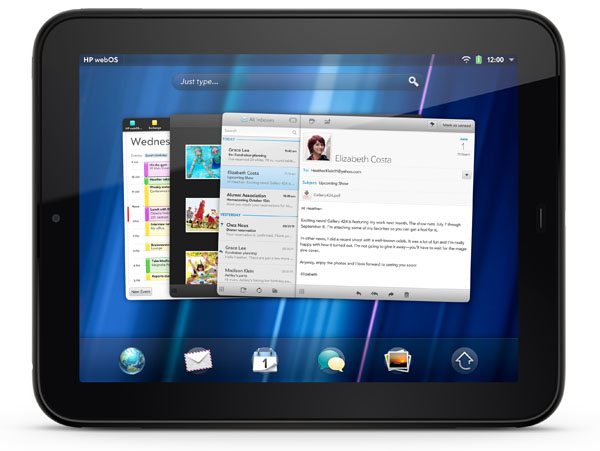 HP has just revealed the HP TouchPad 4G which will be available exclusively in the United States on the nation's fastest mobile broadband network, AT&T.  Information about a Canadian model is not available at this time, although a similar model is expected to follow in Canada.
With a faster 1.5-GHz processor, 32 GB of internal storage, integrated GPS and AT&T wireless mobile broadband capabilities built in, the connected version of HP's first webOS tablet lets users browse the web, check email and get more done in more places – not just Wi-Fi hotspots.
AT&T's fast mobile broadband network will enable HP TouchPad 4G users to download large files quickly, stay on top of emails, and access favorite websites with ease. With AT&T's DataConnect Plans for Tablets, users can buy the prepaid or postpaid mobile broadband data service that fits their needs, whether they're an occasional user or want to stay connected all the time. HP TouchPad 4G users also will be able to take advantage of unlimited access to more than 20,000 AT&T Wi-Fi Hot Spots nationwide with qualifying data plans.
With support for Adobe Flash Player Beta; video calling capabilities; the ability to print wirelessly to compatible networked HP printers; Quickoffice to view Microsoft Word, Excel, and PowerPoint files; and Adobe Reader to view PDFs, HP TouchPad is a true productivity powerhouse. It automatically syncs personal and work emails, contacts and calendars from sources such as Microsoft Exchange, Facebook and Google into a single view.
With webOS, TouchPad users also have a next-level multitasking experience, integrated access to their information with HP Synergy, the ability to find information on the device or the web using the Just Type feature, and unobtrusive notifications. HP TouchPad is designed to help users accomplish more, letting them connect, play, surf and share more easily.
Optional accessories for HP TouchPad include the HP Touchstone Charging Dock, the HP TouchPad Wireless Keyboard and the HP TouchPad Case.
The HP TouchPad tablets will be available for $499 with 16GB or $599 with 32GB storage.
For more info, please visit http://www.hp.com.