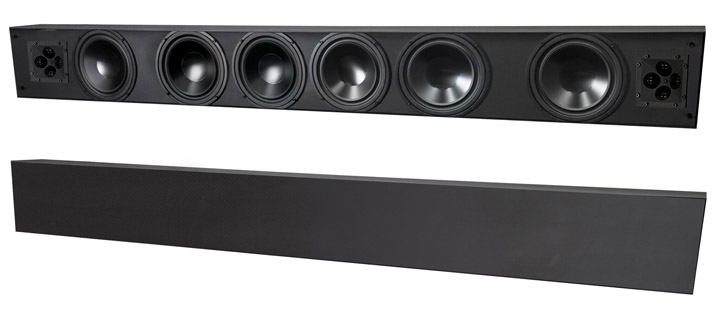 James Loudspeaker has just revealed a new series of 2.1-channel sound bars.  Each model combines left and right-channel audio as well as a center-mounted subwoofer. These sound bars, are designed to complement flat panel TVs in applications where an external subwoofer is not practical.
Available in the company's SPL5, SPL6 and SPL8 Series sound bars, the new LR-S models produce high-output, superb clarity and bass extension below 60Hz.  The James Loudspeaker A2.1 three-channel amplifier is also the perfect companion for powering the LR-S.  The A2.1 is outfitted with onboard crossovers and independent controls for easy system calibration.
James Loudspeaker sound bars are built in California, with prices starting at $3,500 US. Each sound bar features proprietary aluminum cone woofers and either aluminum or beryllium dome quad tweeters for unsurpassed dispersion and musicality. All LR-S sound bars can be custom fit and painted to match any display or décor. LR-S sound bars can be mounted directly to any TV for a seamless presentation or wall-mounted using available brackets.
More info over at www.jamesloudspeaker.com