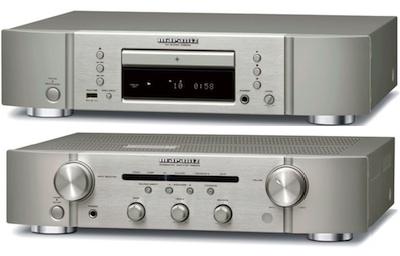 Marantz is introducing two new hi-fi components – the CD6004 CD player and the PM6004 amplifier. These two 6004 models replace their successful, and Award-winning, CD6003 and PM6003. Both products have been extensively reworked by the Marantz engineering team, under the direction of Brand Ambassador Ken Ishiwata.
The CD6004:
The new CD player incorporates a centralised CD mechanism and improved power supply. Internal components are mounted on a new solid metal bottom-plate chasis that has been designed to reduce vibration.
Digital to analogue conversion (DAC) is performed now using the CS4398 DAC from Cirrus Logic. Above and beyond standard CD and WMA/MP3 files from disc, the CD6004 can accommodate Apple iOS devices via the front-panel USB socket. The new player also offers charging for a connected iPod, iPhone or iPad.
The latest version of the company's Hyper-Dynamic Amplifier Module, the HDAM-SA2, is used within to send the audio signals to the gold-plated RCA phono outputs. Both toslink/optical and coaxial digital outputs are also provided.
The PM6004:
A complete redesign now utilizes preamp and power amp sections (rather than the former integrated circuits of the PM6003) built entirely from discrete components. This was done to refine sound reproduction and optimize frequency responses across the spectrum.
The PM6004 retains the former models case-shielded low-impedance toroidal transformer, custom main capacitors and high-current power transistors, which are mounted directly on the extruded aluminium heatsink.
The new amp delivers 45Wpc into 8ohms, or 60Wpc into 4ohms and has five line-audio inputs with a moving magnet phono-stage. Tone controls with a 'source direct' bypass and two sets of speaker terminals with A/B switching are also included.
Both the CD6004 and PM6004 come complete with remote control and will be available in both black and silver finishes.
The CD6004 and PM6004 are expected to begin shipping in the UK by the end of September at a MSRP of £310 each. North American product availability / pricing are yet to be confirmed.
Look for more information at: www.ca.marantz.com.