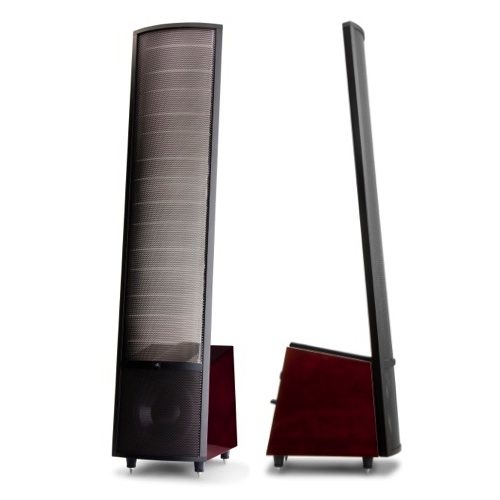 MartinLogan, a company famous for its electrostatic speaker designs, has just announced their new Montis hybrid electrostatic loudspeaker. The Montis is to join MartinLogan's Reserve ESL Series. Following in the footsteps of the CLX loudspeaker, the Montis features controlled dispersion curvilinear XStat electrostatic technology, a proprietary Vojtko crossover and DSP engine, and a seamlessly blended woofer system that is designed to provide mid-range clarity, a defined soundstage, as well as accurate low-frequency performance.
MartinLogan's dedicated in-house design and engineering team created an extremely precise 24-bit Vojtko DSP engine in conjunction with a powerful 200-watt class-D amplifier, which is claimed to deliver detailed low-frequency performance down to 29Hz. Additionally, integrated low-frequency equalization below 100Hz further enhances bass performance by allowing precise tailoring to adjust for individual room acoustics.
The electrostatic transducer features advanced MicroPerf stator technology giving the latest-generation CLS (Curvilinear Line Source) electrostatic transducer almost twice as much exposed diaphragm surface as a traditional electrostat of the same size, for increased dynamics and higher efficiency.
The Montis is claimed to be build on a number of unique MartinLogan manufacturing techniques and materials that are explained on the MartinLogan ESL Advances section of the new website. Included are: XStat and AirFrame technologies, vacuum bonding, MicroPerf stators, a Curvilinear Line Source electrostatic transducer, dipole sound radiation, a low-distortion aluminum-cone woofer, advanced Vojtko filtering, a 24-bit Vojtko DSP engine, and 100-Hz level control.
For setup and aesthetics, MartinLogan supplies sturdy 3/8-16 ETC spikes, which can be used in place of the standard feet to enhance stability on thick carpets or to create tighter coupling between speaker and floor. The spikes also allow fine tuning of vertical wave launch for mid and high-frequencies.
The Montis comes in three hand-rubbed, real-wood finishes including: Black Ash, Dark Cherry, and new for 2011, High-Gloss Black Cherrywood.
The MartinLogan Montis starts at $9,995 U.S. / pair and will ship this September 2011.
Look for more details at: www.martinlogan.com.