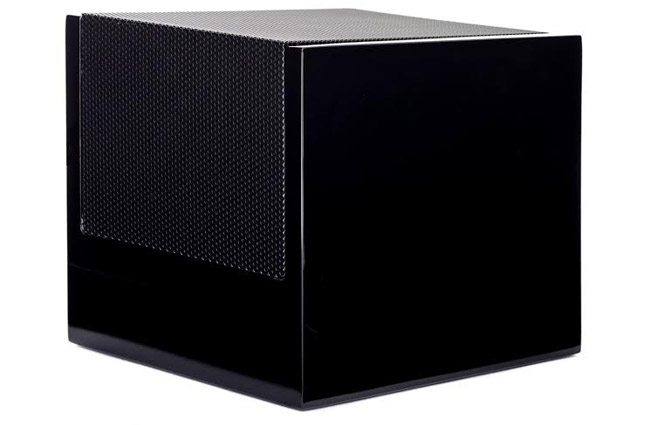 MartinLogan has just announced their Motion AFX – Dolby Atmos enabling loudspeaker. The new Motion AFX is the latest model in the MartinLogan Motion Series and has been designed to bring Dolby Atmos capability to the series. Dolby Atmos was specifically developed to provide a more immersive and captivating auditory experience than has ever been possible, whether listening to music, movies, television shows, or gaming. The MartinLogan Motion AFX Dolby Atmos enabled speakers are designed to create a height layer of sound above the listener. This results in greater connection to the content – with perceived improvements in richness, detail and clarity.
The new Motion AFX is designed to sit on top of floorstanding and bookshelf speakers in MartinLogan's Motion series. These models include the Motion 15, 20, 35XT, 40 and 60XT. Designed to reflect sound off of the ceiling in a Dolby Atmos entertainment system, The AFX will also work with other brands of speakers with a flat top. For systems where a speaker-top mounting is not possible, other installation options are available.
Each Motion AFX speaker features a 0.75-inch aluminum dome tweeter and 5.25" polypropylene cone bass/midrange driver with stamped steel basket. A High Gloss Black cabinet encapsulates the various components, providing a non-intrusive while stylish appearance. The shape of the Motion AFX cabinet is specifically designed to angle the drivers towards the ceiling in order to accurately deliver a Dolby Atmos sound experience above the listeners.
In systems where overhead speakers are a possibility, MartinLogan also offers a range of architectural in-ceiling speakers (including the Vanquish), that can employed in a Home Theater system designed to support Dolby Atmos playback.
The new MartinLogan Motion AFX speakers have an estimated MSRP of: $599.95 U.S./pair and will begin shipping this November 2015. For more information about MartinLogan and the Motion AFX, please visit: http://www.martinlogan.com/