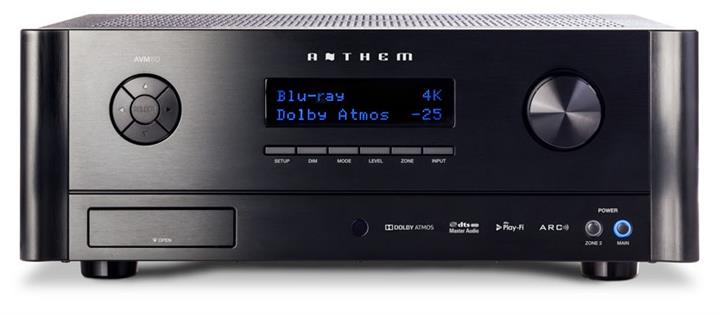 Anthem Electronics has just unveiled the next generation of its award-winning high-end A/V receivers. The new generation of MRX A/V receivers share many new features and improvements over previous generations, with even more moving up the line, such as Dolby Atmos immersive audio decoding, DTS Play-Fi and readiness for DTS:X immersive audio decoding. Additional channels of processing and amplification are also supplementary as you move up the line. Just as the model names suggest, MRX 520 includes five channels of amplification, MRX 720 includes seven channels of amplification and MRX 1120 includes eleven channels of amplification.
Other MRX series improvements and additions include support for the latest UHD video formats. The alphabet soup of prerequisites is all here: HDMI 2.0a with HDR and HDCP 2.2, 18.2 Gbps switching, 4:4:4 at 4K60, 10 bits, BT.2020 and more. For hi-res audio enthusiasts there are premium-quality differential-output D/A converters with 32-bit conversion and sampling rate-optimized filters. For convenience and ease of setup there are expanded menu options, a front USB port for software updates, and any source can be downmixed to Zone 2 and fixed-level line outputs. Most of all, Anthem Room Correction, included with each unit, just got better with improved correction algorithms, memory for four speaker configurations for greater flexibility, and an easier to use Targets panel for custom settings.
Anthem is also breaking new ground by being the first A/V receiver company to feature DTS Play-Fi technology (MRX 720 and MRX 1120 only). Anthem's new generation of MRX A/V receivers provide listeners the freedom and flexibility to stream their music over a Wi-Fi network to any number of connected speakers once paired with the Play-Fi App. Unlike other wireless platforms, DTS Play-Fi streams high quality, lossless music through an interoperable system, allowing listeners to mix and match DTS Play-Fi-enabled audio products from a selection of top audio brands. Using the Android, iOS, Kindle Fire or PC apps, listeners can take advantage of endless music choices from their own libraries, including file formats up to 24-bit/192 kHz, to online music streaming services like Tidal, Spotify, Rdio, Songza, Pandora, SiriusXM, Rhapsody and more.
MRX 520
At the entry level, the MRX 520 includes 5 channels of amplification, 5.1-channel processing and a rear panel input complement of seven rear HDMI inputs (including one with MHL support), three optical, two coaxial, and five stereo analog inputs. It has two parallel HDMI outputs, (including one with Audio Return Channel), an optical output that passes through optical and coaxial input, pre-outs for all channels including two parallel subwoofer outputs, line output, and Zone 2 output.
MRX 720
Moving up the line, the MRX 720 includes 7 channels of amplification, which is suitable for driving 7.1, 5.1.2, and 5.1 plus zone 2 speaker systems. With external amplification for height speakers the main pre-outs can be used for 7.1.4-channel systems. The input complement is similar to that of the MRX 520, adding a front HDMI input which also supports MHL. Other standout features include Dolby Atmos and DTS:X immersive audio decoding (DTS:X via a future software update). DTS Play-Fi wireless multiroom-audio technology is also built in. Users can also enjoy the wireless network connection to run the award-winning Anthem Room Correction system, making setup more convenient than ever before.
MRX 1120
The lineup's flagship model is the MRX 1120, which includes all of the benefits of the MRX 720 plus more channels than ever before in Anthem's MRX line of A/V receivers – 11.1 channels of processing and a rare 11 channels of amplification, all through a toroidal power supply. The internal amplification can be configured for up to 7.1.4 speakers or 5.1.4 plus zone 2. With professional-quality room correction, support for the latest immersive audio and UHD video formats, wireless music streaming and IP control, and built-in amplification for 7.1.4 speakers the MRX 1120 is at the center of a new standard in high-end home theater receivers.
Estimated availability of the new generation of MRX A/V receivers is January 2016. Estimated US pricing will be: MRX 1120 – $3,499 / MRX 720 – $2,499 / MRX 520 –$1,399.
For more information please visit www.anthemAV.com