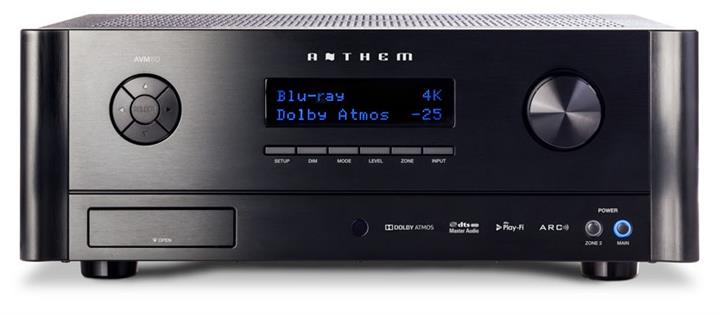 Anthem Electronics has just revealed the next generation of the company's award-winning high-end preamplifier-processor, the AVM 60. Few preamplifiers-processors offer the innovation and performance found in the all-new AVM 60. Added features include Dolby Atmos immersive audio decoding and future upgrade for DTS:X immersive audio decoding, support for UHD Blu-ray and 4K60 through HDMI 2.0a with HDR, HDCP 2.2 and 18.2 Gbps switching. Other AVM 60 improvements include any source downmix to Zone 2 and the fixed-level line outputs, as well as expanded menu options for convenience and ease of setup. AVM 60 includes two subwoofer jacks and a front USB port for software updates. The front HDMI input supports MHL, as does one of the seven HDMI inputs on the back.
Audiophile-friendly features include a toroidal power supply, premium differential-output D/A converters with 32-bit conversion and sampling rate-optimized filters for high-resolution sound.  Premium A/D converters with 106 dB signal to noise ratio ensure the highest-quality sound when using analog sources.
Additional features include wireless network correction which can also be used while running the award-winning Anthem Room Correction system, now with improved correction algorithms, memory for four speaker configurations for greater flexibility and an easier to use Targets panel for custom settings.
Anthem's AVM 60 is also breaking new ground by being the first preamplifier-processor to feature DTS Play-Fi technology. AVM 60 provides listeners the freedom and flexibility to stream their high-resolution, lossless music over a Wi-Fi network to any number of connected speakers once paired with the Play-Fi App. Unlike other wireless platforms, DTS Play-Fi streams music through an interoperable system, allowing listeners to mix and match DTS Play-Fi-enabled audio products from a selection of top audio brands. Using the Android, iOS, Kindle Fire or PC apps, listeners can take advantage of endless music choices from their own libraries, including file formats up to 24-bit/192 kHz, to online music streaming services like Tidal, Spotify, Rdio, Songza, Pandora, SiriusXM, Rhapsody and more.
To complement the AVM 60, the new crafted-in-Canada 225-watt MCA 525, MCA 325, and MCA 225 power amplifiers in 5, 3, and 2-channel configurations have been completely redesigned for improved audio performance and reliability, and cosmetic matching. While the previous MCA series with its successful 15-year production history was no slouch, careful attention was paid to every area for the new series resulting in upgrades such as using eight bipolar output devices for less stress on each device, no relays in signal path to reduce the number of moving parts which can fail, much reduced in-rush current on power-up with less line disturbance and reduced stress on internal components, and higher-quality connectors. As well, power distribution to each channel has controlled impedance with minimum inductance and reduced cabling for lower noise and higher reliability.
For audio quality improvements, damping factor is considerably higher to eliminate the effect of speaker impedance variations on frequency response, and distortion is lower thanks to many improvements throughout including higher current output which is suitable for demanding low-impedance speakers.
The Advanced Load Monitoring system is also improved with a lower chance of a fuse blowing during an over-current condition, with unaffected channels continuing to play and all-channel operation resuming automatically once conditions are back to normal.
The three auto-on and trigger-on options are maintained and consume less standby power than before – under 2 watts.
Estimated availability of the AVM 60 and MCA Series is January 2016. Estimated US pricing will be:
AVM 60: $2,999
MCA 525: $3,499
MCA 325: $2,499
MCA 225: $1,999
For more information, please visit www.anthemAV.com.