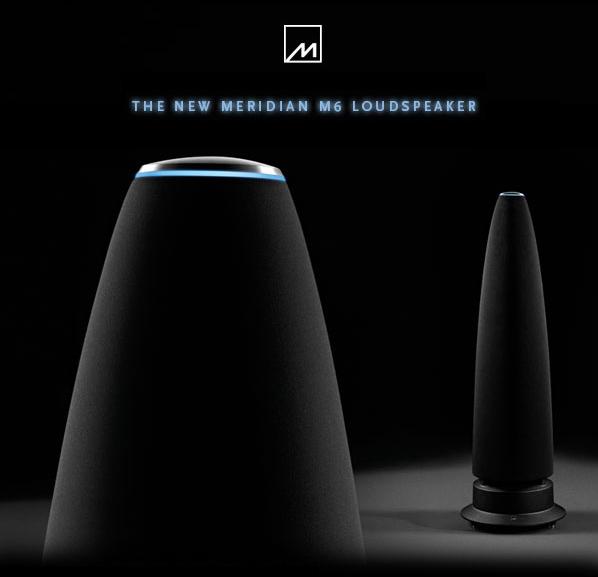 Meridian Audio has just announced their all-new M6 loudspeaker.  The speaker has a contemporary design, which is reflective of some of their other products.  Matched with the Meridian Audio Core 200, M6 creates a complete discreet high-end audio system that is simple to use, easy to live with, and accessible to the whole family.
M6 has a modest circular footprint and simple lines. Given its slim shape, gentle taper and non-reflective surface, first impressions might be that the M6 is not a loudspeaker, at all.  The gently tapered column that creates the enclosure of each M6 is formed from a specially developed, barium-doped resin. Uniquely heavy and rigid, it is precision moulded into a complex form – impossible to achieve using traditional manufacturing materials and techniques. The same cylindrical enclosure gives M6 its naturally wide dispersion pattern, filling the room with natural sound that can be enjoyed from any position. Its form gives M6 a cylindrical acoustic radiation pattern, offering flexible placement options and a sound that does not significantly vary in volume as you move closer to or further away from the loudspeaker.
Acoustically inert, the cylindrical enclosure provides separate, isolated housings for the wide-range and the low-frequency drivers. There's also a tuned porting system that further extends the loudspeaker's low-frequency performance. The low-frequency driver is mounted so that it plays downwards, helping M6 blend into the listening environment.
The MSRP for the Meridian M6 Loudspeaker is : $9,000 U.S. / pair and it will be available in February 2012.  Look for more details at: www.meridian-audio.com