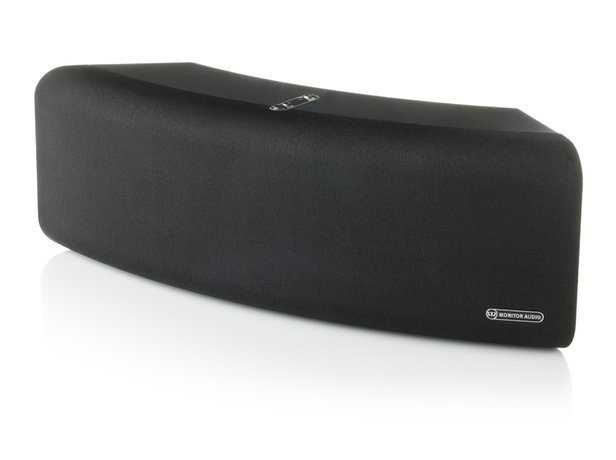 Monitor Audio has just recently announced a new Apple AirPlay enabled powered speaker, named the Airstream S300.  The new S300 is a 150W compact and portable wireless stereo speaker system that can accept music streamed via computer, smart phone or tablet
Via a Wi-Fi network the S300 can stream uncompressed audio from iTunes, Spotify, Last.FM, YouTube and other Apps installed on computer, smartphone or tablet.  With the S300's Airplay Direct feature, any i-device can easily be connected, even without a Wi-Fi network.
The S300 has an enclousre made of acoustically ideal mineralized polymer and comes in a choice of white or charcoal grey finishes.  The curvy lines and glass end trims provide a stylish expression for easy integration in virtually any living environment.  
The S300 incorporates a precision-calibrated two-way audio system comprising four advanced DSP-controlled amplifiers driving four C-CAM speakers, configured in stereo pairs of bass units and tweeters. Signal paths are digital to the S300's high resolution 24 bit DACs.  The system's in-room response is enhanced by Monitor Audio's innovative APC (Automatic Position Correction), which compensates for boundary effects and room acoustics.
The S300's has been designed in a compact self-contained form to allow it to be placed virtually anywhere – including to any wall using the integrated mounting and Monitor Audio's Universal Wall Bracket (UWB).
Features & Specifications:
•Apple Airplay – stream music from iOS device, PC or MAC
•Airplay direct – stream music directly to S300 without Wi-Fi router (point to point)
•USB input for charging and set up
•Discrete high performance stereo sound design
•Monitor Audio C-CAM bass drivers and gold dome tweeters
•150 Watts delivered via four power amplifiers
•Innovative Automatic Position correction (APC) system
•IR Remote control unit
•3.5mm Auxiliary input
•White or black finish options
•Dimensions: 46.7W x 15.4D x 15H CM (18 ¼"W x 6″D x 6″H)
The new Monitor Audio Airstream S300 is currently available at a MSRP of $499 U.S.  Look for more details at: www.monitoraudio.com.