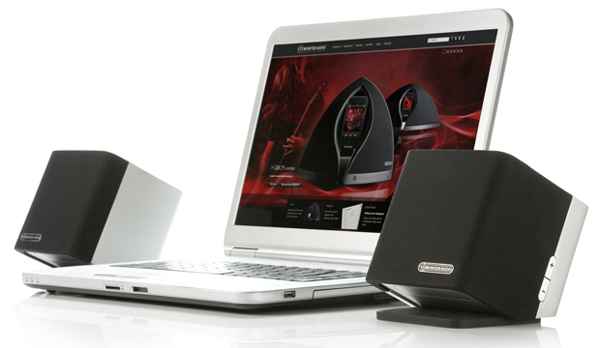 Monitor Audio's new WS100 wireless audio system is designed for the millions of people who store and play music from a desktop, laptop, smart phone or tablet.  It comprises a pair of stylish 5″ cube speakers with amps and wireless receiver on-board. The matching, compact monitors are precision engineered to deliver clean wideband lossless audio from any computer in seconds. Simply position the speakers, plug-in the USB transmitter and play CD quality sound wire-free.
Each active speaker has been optimized to deliver the best audio experience possible from such a space-efficient system. Excellent acoustic design is dovetailed with advanced wireless architecture to maintain a clear signal path from source to speaker, free of the distortion that limits the enjoyment of music.  The WS100 monitors employ custom-designed tweeters and mid-bass drivers based on the C-CAM transducers used by Monitor Audio's flagship hi-fi speakers. C-CAM is a proprietary driver material, derived from the aerospace industry. It's extremely light, but also very rigid, and so is able to reproduce best-in-class highs and dynamic lows accurately and effortlessly.
A further crucial element in the WS100 chemistry is Monitor Audio's use of SKAA wireless transmission. Integrated with each DAC is a specialized wireless receiver, employing a very high quality digital audio protocol to transport audio from source to destination without compression. Operating in the 2.4GHz band, it protects the lossless signal from other networks with a patented Walking Frequency Diversity (WFD) technology, which uses sophisticated and seamless channel-hopping to eliminate clicks, pops and dropouts.
Built for peerless ease of use, the WS100 operates with plug and play simplicity. Power up the speakers with a single mains connection and plug the SKAA transmitter dongle in the nearest USB. When in range of the transmitter (up to 10 metres) as many as four WS100 systems will receive the same source. Further dongles will send pristine lossless audio from up to four sources to the same WS100 system.
The stylish WS100 remote, which is shaped to fit snugly in hand, will control power, play/pause, track up/down volume and input selection: the 3.5mm mini-jack input on the back of the WS100 will accept a wired connection from Apple iPhone, iPod, iPad and other sound sources. Connect wirelessly with Apple devices through an additional ultra-compact dongle purchased separately. System volume may also be controlled from a touch panel on the side of the WS100.
Each WS100 speaker cube has a rigid die-cast metal shell and weighs a hefty 1.7 kg! Not only does this feel reassuringly luxurious, it adds no cabinet resonance to the sound. The matching contoured cubes are finished with scratch-resistant polished glass top panels to retain their classy lustre in any environment. And for the final design touch, a unique magnetic pivot system allows each speaker to be tilted backwards, ensuring great sound from shelf or table at any range.
Available now for $429.  For more info, please visit www.monitoraudio.ca.  News via Guydster "the guy's guide to everything".