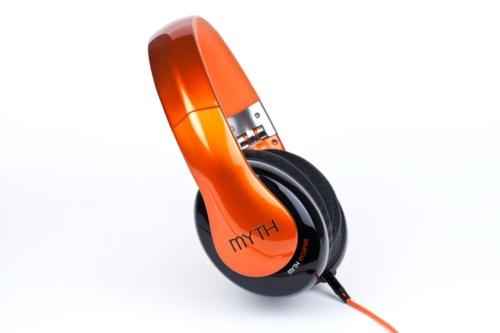 Myth Labs is a new entrant to the competititve headphone product market and comes in with two models of headphones that are customized to fit individual lifestyles and music collections.  
The sound of Myth headphones is tailored to the listener using a variety of drivers designed to fit different types of music genres and audio files. All Myth headphone drivers (speakers) are made using unique metal compounds and innovative manufacturing technologies to produce passive noise-canceling headphones that optimize sound reproduction while isolating the listener from ambient noise.  The headphones have been designed to produce a wide and accurate soundstage and accomodate both high and low quality audio files.
All headphones come with a reinforced auxiliary cable with built-in microphone and controller to increase headphone functionality. Myths modular design is made using fortified stainless steel construction to ensure this headgear is both flexible and durable. Mythbands and speakers come in a variety of colors.
A new iMyth Labs Sonic Signature free-ware application available for iOS and coming soon for Android devices is designed to help the individuals determine which headphones complement their lifestyle and music. By scanning music libraries for popular genres and overall sound quality, the app assigns a sonic match to optimize the user's listening experience.
Myth Labs continues to design more speakers to expand the available sonic characters and sound options for consumers.  The initial launch of Myth Labs headphones includes Myth's Genesis and Eclipse models:
Myth Genesis: lightweight, bring the best out of lower-quality music sources, transforms low quality mp3s to emit optimum sound
Myth Eclipse: designed to expose intricate elements in the music, best suited for high quality audio files, offering accurate bass, mids, and treble with lifelike soundstage.
Genesis and Eclipse headphones are currently available for purchase at a MSRP of $179.99 U.S. (Genesis) and $259.99 U.S. (Eclipse).  Buyers can "Like" Myth Labs on Facebook to receive a 10% discount on all headphone models.  Look for more details at: www.mythlabs.com.