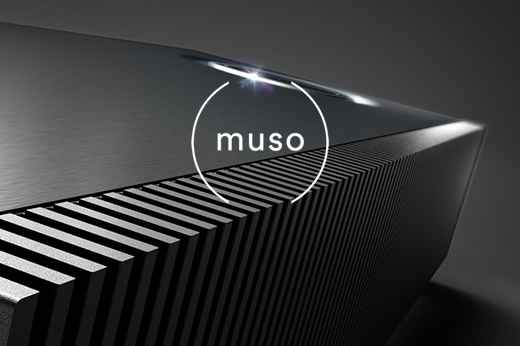 Naim Audio has just unveiled their new Muso wireless music system product. This is Naim's first wireless music system and has been designed to bring Naim sound to a broader consumer market. Muso brings together digital music streaming, amplification and loudspeaker design within one package.
Muso has been carefully engineered to provide the best possible experience for the listener in a simple and compact set up. Muso can stream high resolution music from smartphones and tablets as well as laptops and other storage devices. Connectivity includes AirPlay, UPnP, Bluetooth (aptX), internet radio and native support for popular streaming services.
A Muso control app for iPad, iPhone and iPod as well as Android devices allows playlists and remote playback control. The app also allows access to millions of high quality internet radio stations. The new control app will compatible with existing Naim streaming products as well as the new Muso.

Muso features six 75 watt digital amplifiers driving each of the Naim custom-designed speakers independently. It can be used as a central home hi-fi system or, when linked with other Naim streaming players such as the UnitiQute 2 or NDX as a client player, it can create a true high-fidelity multi-room system. The Muso also provides playback of 24bit/192kHz high resolution music.
Muso uses premium materials and shares a design DNA with our flagship amplification system, Statement. A striking solid extruded aluminium heat sink runs across the length of Muso, designed to maximise thermal performance, longevity and, above all, sound quality. It is bead-blasted and anodised for a premium finish.
The internal speaker cabinet is wooden to optimize acoustic performance while the aluminium skin provides an extra level of resonance control, resulting is greater clarity. The speaker also uses silk dome tweeters for added performance and the standard speaker grille can be detached and replaced with three optional colour variations.
Specifications:
– Audio Inputs: optical S/PDIF (up to 96kHz); 3.5mm jack on side; USB/iPod: Side USB Type-A; Bluetooth (including aptX); Ethernet (RJ45) (10/100Mbps); Wi-Fi (802.11b/g)
– Connectivity: UPnP, AirPlay, Streaming Services and Internet Radio
– Power Amplifier output: 450W – 6 x 75W (into 6ohms, at 1% distortion, 1 channel driven)
– Audio Formats: WAV, FLAC and AIFF @ up to 24bit/192kHz; ALAC @ up to 24bit/96kHz; MP3 @ up to 48kHz, 320kbit (16 bit); AAC @ up to 48kHz, 320kbit(16bit); OGG and WMA @ up to 48kHz (16bit)
– Wireless Supported Formats: up to 48kHz on all file formats; WAV, FLAC and AIFF – up to 24bit/192kHz; ALAC (Apple Lossless) – up to 24bit/96kHz
– Internet radio service provider: vTuner premium
– Bluetooth: SBC, AAC and aptX
– Product Certifications & Licensing
– Licenses: Apple MFI and AirPlay, Bluetooth, aptX, Wi-Fi certification
– Include: Infra-red remote control, mains plug adaptor and quick-start guide
– Dimensions (HxWxD): 120mm x 628mm x 256mm; Weight: 13kg
The new Muso will be available in September 2014. European pricing will be £895 inc VAT; while North American pricing has not yet been announced. Look for more details at: http://www.naimaudio.com/.
Comments are closed.