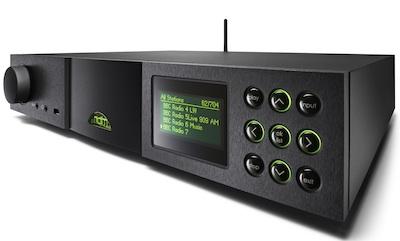 Naim is adding a top model to their Uniti network streaming product line-up. The new SuperUniti will take it's place in the range above the current NaimUniti and UnitiQute models.
The SuperUniti will essentially be a combination of the features in the nascent Naim UnitiQute, Naim DAC and SuperNait integrated amplifier models.
A key feature of the SuperUniti will be it's power output, which is rated at 80 watts/channel, which now gives the possibility of a Uniti system powering large rooms and/or meeting the power needs of those who like their music just a little louder.
The Naim SuperUniti will include Wi-Fi and Ethernet inputs, along with two electrical and three optical digital inputs, three line analogue inputs, preamp output and stereo subwoofer output. It features a latest-generation streaming board, which is a digital six-layer design that enables the SuperUniti to stream 192kHz/24-bit content.
The front panel has 3.5mm sockets for stereo line/optical in and headphone out, plus a USB socket and can accept a direct digital input from iPods, iPhones and iPads via the USB socket. It can be controlled using an iOS device running the company's n-Stream app. via a network.
The SuperUniti also incorporates DAB and FM radio tuners, along with access to thousands of internet radio streams.
Naim's Zero S/PDIF Jitter Design, as used in the Naim DAC is utilized. The Zero design uses a buffering system that stores incoming data and use high precision clocks to provide isolation from incoming jitter.
Digital filtering is handled by a SHARC DSP chip running proprietary Naim code, and the SuperUniti uses Burr-Brown PCM1791A conversion, as also used in the NDX and HDX.
Completely new for the SuperUniti is a high-performance digitally-controlled analogue volume adjustment, using discrete resistors and high-performance electronic switching to give what Naim says is the sound quality of an analogue volume control with the flexibility of digital control.
Naim has also announced a free of charge update for the HDX, UnitiServe and its NaimNet music servers: it adds internet radio capability to these devices, and will be available from Naim retailers soon, as a dealer upgrade or as a disc for self-update.
The SuperUniti will begin selling in the U.K. this October for £3250. Availability and pricing in North America is yet to be announced.
Look for more at: www.naimaudio.com.