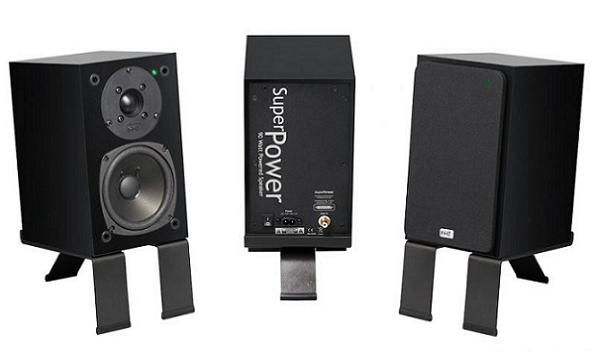 NHT today announced that it will soon ship SuperPower: a compact, self-amplified mini-speaker designed to deliver high performance when connected to a digital source such as a PC, iDevice etc.
NHT has drawn on their experience and knowledge gained from both their SuperZero 2.0 passive mini-speaker, as well as their professional series M-00 "moo", 75W powered mini-monitor studio monitors.
The SuperPower's acoustics section includes NHT's time-tested mini-monitor driver complement, featuring a 4.5-inch long-throw woofer and 1-inch silk dome tweeter. The drivers are acoustically suspended in a sealed box that is finished in NHT's trademark high-gloss, black laminate finish.
Each SuperPower speaker features its own ultra-low distortion 90 watt power amplifier that boasts over 90% efficiency. The amplifier is mated with a custom designed pre-amp circuit that shapes the speakers' response for both bass extension (to 72Hz) and SPL (over 111dB @1 Meter).
NHT is simultaneously introducing the SuperPower DeskStand to accompany the SuperPower. Sold separately, the 10-gauge carbon steel formed DeskStand is designed to isolate the speaker from the surface on which it rests, opening up the midrange vocals to deliver an expansive, more realistic soundfield.
For those seeking a fuller range experience, the SuperPower mates exactly with NHT's Super 8 subwoofer, which can be purchased with the SuperPower speakers at a package discount.
NHT also offers an optional PVC PC passive volume control interface that puts a simple, volume knob at the user's fingertips, and in the process isolates any computer-generated noise from the speakers. In addition, the PVC helps reduce the unwelcome sonic effects of software-based volume "dithering" effects and makes the addition of a Super 8 subwoofer even simpler.
The MSRP on these products is as follows:
SuperPower [$199 U.S. each];
SuperPower DeskStand [$59.00 U.S. pair];
Super 8 subwoofer [$299.00 U.S. when purchased with SuperPower pair] and;
PVC PC volume control [$99.00 U.S.].
Look for more information on the SuperPower at: www.nhthifi.com