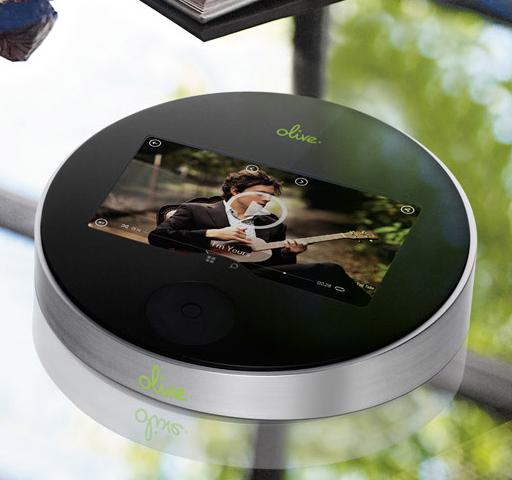 Olive Media Inc. has just introduced their new Olive ONE, a all-in-one high definition (HD) music player / touchscreen device that provides simple and easy access to music libraries.  
Olive brings the high-end music server market to the music loving masses with theis new affordable device.  Unlike other home music players, Olive ONE features a beautiful touchscreen, eliminating the need to fumble for the remote control, unlock screens or boot mobile phone apps to control it. Even so, iOS and Android smart phones can be used as a remote control as well.  Because the Olive ONE is wireless, its elegant interface is easily transferred to WiFi-enabled televisions for remote browsing, as well as playing music on the telly.
Designed by European Americans and hand-built in the USA, the Olive ONE is simple to set up and use. Just unpack the player and connect it directly to your speakers. One simple push of a button integrates the WiFi network – no cumbersome encryption modes and keys to be entered. The player automatically recognizes all of the music on the computer network, and music is enjoyed in minutes.
Just nine inches around and slightly over 1.5 inches tall, the ONE sits comfortably almost anywhere. In terms of optional add-ons, to date, Olive will offer a powerful 2.5″ AV hard disk drive that stores music for instant access, while also turning the player into a subscription-free home cloud.
Because paying monthly music-related cloud storage subscription fees, forever, is not ideal, the optional hard disk drive is a heralded solution. It stores up to 6,000 albums in CD quality or 20,000 HD tracks, minus buffering and network hiccups. Social network integration, and an open architecture, for the invention of cool new apps, are also part of the mix.
The open hardware and software design also means that the player will not be outdated or made obsolete too soon, like so many consumer electronics today. Olive ONE upgrades can be easily downloaded from the Internet.
Olive ONE is slated to ship in summer 2013, with a MSRP of $399 U.S. The player has been in development for over a year and a pre-production prototype is completed. Versions with the hard drive will sell at $499 U.S. for 1TB, and $599 U.S. for 2TB. Olive ONE will be sold directly at www.myoliveone.com.