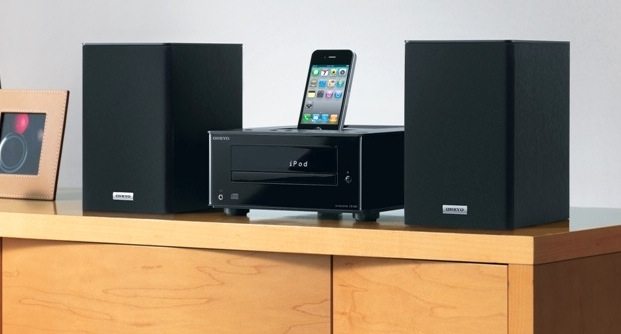 Onkyo has just release a new compact home music system for iPod/iPhone. The new system is the CS-345 CD Mini System. The CS-345 is very compact, allowing for it to be used in smaller rooms such as a bedroom or office. The system has a built-in dock for iPod/iPhone, an integrated amplifier, CD player (supporting CD, MP3 CD, CD-R, and CD-RW formats), AM/FM radio and two bookshelf sized loudspeakers.
The CS-345 uses a digital power amplifier to power the pair of two-way loudspeakers. Each loudspeaker utilizing a dome tweeter matched to a 4-inch woofer, within a bass-reflex enclosure. The power amplifier features ActiveBass Control, which automatically adjusts bass depending on the volume, while Super Bass boosts bass frequencies.
The CS-345?s dock supports iPod classic, iPod touch (Gen1-4), iPod nano (Gen2-6), and iPhone, iPhone 3G/3GS/4. A video output jack is included, allowing users to connect the system to a TV and view video that is played from an iPod/iPhone. The system's stereo input jacks allow for playback from Android devices and other electronics. A subwoofer output and a front-panel headphone jack are also included.
The CS-345 is currently available at a MSRP of: $299 U.S. Look for more details at on the CS-345 at: www.onkyo.com.