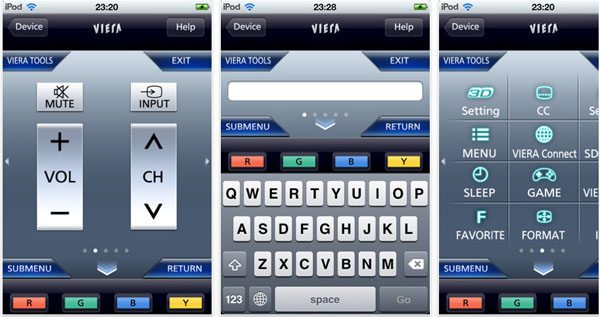 If you can't get enough of your Apple device and already own a Panasonic TV then you'll love this!  Panasonic has just launched its new VIERA Remote App for the iPad, iPhone and iPod touch.  It is now available for download in the Apple App Store.
The app allows you to quickly and intuitively navigate all the tools and features on a VIERA TV including 3D settings, SD card access and VIERA Connect over WiFi by simply activating the function within the TV's menu.
The VIERA Remote App is especially useful when using VIERA Connect, the new cloud-based Internet service from Panasonic that allows people to enjoy sports, health and fitness activities, interactive games, and a variety of other content on their TV, in addition to the standard movies and television programs.
The VIERA Remote App allows you to not only browse and start applications at your convenience, but also input text when required. For example, if you are searching for a video on YouTube or entering a message on Facebook, the app will automatically switch to an onscreen touch keyboard to make text input a breeze. There are a number of other screens available to control different functions, including an option to have either a traditional remote control layout, or a screen that uses gesture control to perform basic operations like changing the channel or adjusting the volume.
The VIERA Remote App is available for free from the App Store on iPad, iPhone and iPod touch or at www.itunes.com/appstore
You can also see a short video on VIERA Connect and the VIERA Remote App here: http://www.youtube.com/watch?v=khMTVpBaJpw&feature=youtu.be
For more info, please visit www.panasonic.ca.