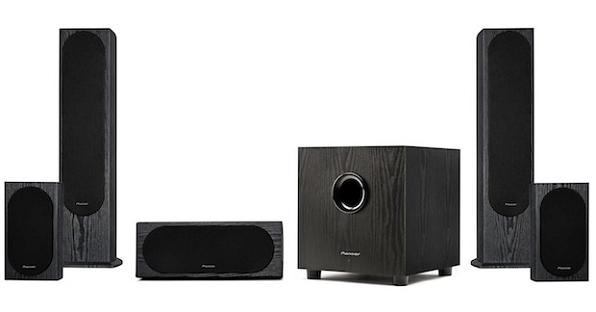 Pioneer Electronics has just revealed its next line of Andrew Jones designed home theater and music speakers. This new 2012 lineup is comprised of bookshelf speakers, floorstanding speakers, a center channel speaker and a subwoofer. These new models are stated to be just as affordable but delivering higher accuracy and smoother response.
New woofers for the bookshelf and floorstanding speakers have been introduced. They incorporate improvements including a vented pole piece, increased sensitivity, and a new structured surface cone. The structured surface woofer (SSW) has been designed to provide enhanced cone strength for better bass dynamics, while also smoothing the response for more accurate midrange presentation.
The tweeters have been modified using oversized magnets and new domes for enhanced efficiency and response. A new custom-designed wave guide is used to control sound direction, optimizing on- and off-axis response to produce a more consistent sound throughout the listening space.
The new speakers utilize a sophisticated crossover network with six high quality components to generate a precise frequency division and driver matching.
Additionally, the new line maintains exceptional build quality through the use of the same RF molded cabinet construction technique used in the previous models. The enclosure reduces vibration and ringing, adding to improved sound reproduction.
The new line of speakers feature a detachable grill, rounded at the top and bottom. Pioneer has also reduced the size of the SP-C22 center channel speaker for additional set-up flexibility, allowing it to fit in more spaces while maintaining performance. The floorstanding speakers are three inches taller in order to obtain better high frequency dispersion at a seated ear-level for better imaging and soundstaging.
The new Andrew Jones designed home theater and music speakers will be available this month, July 2012, at the following MSRP: $99.99 U.S. (SP-C22); $129.99 U.S. a pair (SP-BS22-LR); $129.99 U.S. each (SP-FS52) and; $159.99 U.S. (SW-8MK2).
More details can be found at www.pioneerelectronics.com.