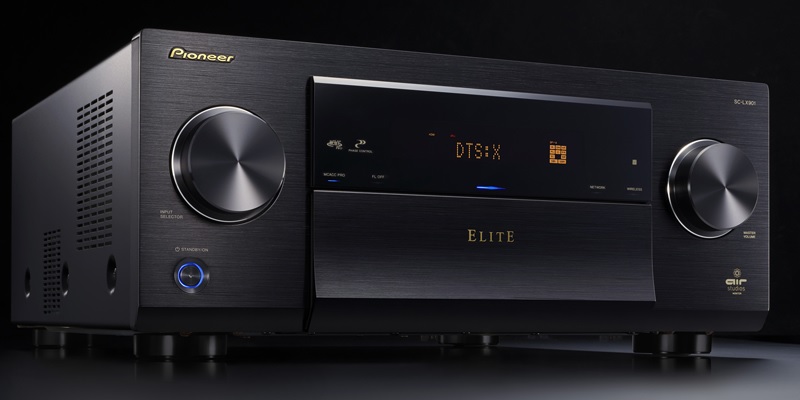 Pioneer Home Entertainment has introduced three new Elite AV receivers – the Elite SC-LX701, SC-LX801 and the SC-LX901. The new Pioneer Elite AV receivers feature Class D3 (Direct Energy HD) amplifiers, for rock solid simultaneous output from all channels.  The SC-LX901 is an 11-channel flagship AV receiver that features Multi-Room Audio, which allows for the wireless distribution of a variety of sound sources — including LPs and streaming services — in different rooms, and the latest network streaming features such as Google Cast and TIDAL.  All 3 top of the line Elite AV receivers also incorporate MCACC Pro, an automatic room calibration technology that adjusts specifically to your environment to deliver optimized object-based audio.  It works in sync with the Reflex Optimizer, a feature that delivers an ideal object-based audio reproduction in an environment installing Dolby enabled speakers. A new user friendly GUI, allows you quick access to your network settings and simplifies the initial set up of the product with easy-to-understand on-screen guidance.
Key Features:
Superb Sound Quality via Re-Engineered Class D3 Amplifier: Based on a decade of class D design experience, Pioneer reengineered the class D3 amplifier from scratch in order to achieve highest quality sound reproduction. They did so by optimizing the patterning and layout of the circuit board to create the shortest and straight signal path, thus reducing potential level of noise.
Powerful Sound:


SC-LX701: 9.1-channel receiver with 760W multi-channel simultaneous drive (8 ohms, 1 kHz, THD 1.0 %) / 185W/ch (6 ohms, 1 kHz, THD 1.0 %, 1ch Driven FTC) / 135W/ch (8 ohms, 20 Hz-20 kHz, THD 0.08 %, 2ch Driven FTC)

SC-LX801: 9.1-channel receiver with 770W multi-channel simultaneous drive (8 ohms, 1 kHz, THD 1.0 %) / 200W/ch (6 ohms, 1 kHz, THD 1.0 %, 1ch Driven FTC) / 140W/ch (8 ohms, 20 Hz-20 kHz, THD 0.08 %, 2ch Driven FTC)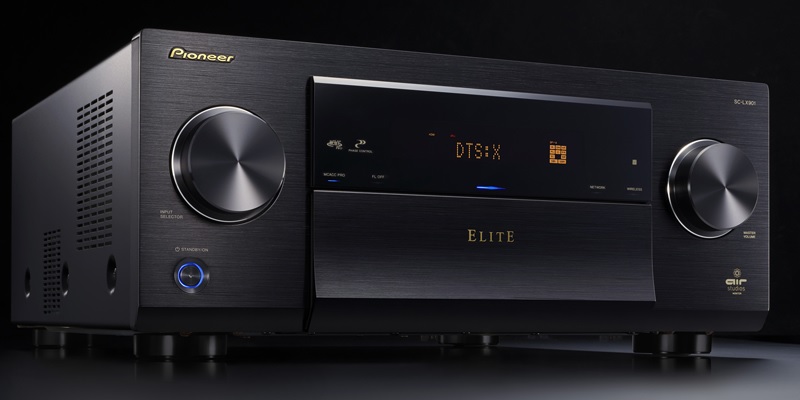 SC-LX901: 11.1-channel receiver with 880W multi-channel simultaneous drive (8 ohms, 1 kHz, THD 1.0 %) / 200W/ch (6 ohms, 1 kHz, THD 1.0 %, 1ch Driven FTC) / 140W/ch (8 ohms, 20 Hz-20 kHz, THD 0.08 %, 2ch Driven FTC)
Incorporates high grade ESS SABRE32 Ultra DACs, so you can enjoy clear, detailed sound thanks to the low distortions achieved by this high-quality digital-analog converter.
Professional Calibration with MCACC Pro: MCACC (Multi-Channel Acoustic Calibration) Pro takes room calibration to a new level of precision. Further enhancing the three-dimensional realism of the Elite's Dolby Atmos-enabled system as well as all of your other audio sources, MCACC Pro calibrates your room's sound using a microphone to monitor the acoustic environment and an equalizer to optimize and precision-tune each speaker to the room.
Pioneer's Full-Band Phase Control technology eliminates phase lag between speaker units inside of cabinet to precisely control sound locations for ideal stereo and multi-channel sound reproduction.
The new Reflex Optimizer feature was designed to maximize object-based audio reproduction with Dolby Atmos-enabled speakers and generate the best sound experience from stand alone and/or add-on speakers, allowing you to fully enjoy the latest 3D, immersive sound technologies.
Dolby Atmos and DTS:X(tm) Support: The SC-LX701, SC-LX801 and SC-LX901 support Dolby Atmos and DTS:X surround-sound formats. With their object-based designs these formats produce a perfect wrap-around sound with precisely placed effects and realistic movement sequences in all three spatial axes. Combination of Class D3 powerful amplification and precise sound adjustment by MCACC Pro result in a perfect surround experience.
AIR Studios Sound Tuning: The SC-LX801 and SC-LX901 have been certified at London's legendary AIR Studios, whose work is acknowledged worldwide for award-winning motion picture soundtracks and peerless recording and mastering. Like Pioneer, AIR Studios respects the artist's intention and believes that faithfully reproducing what was originally created in the studio is the critical objective of the finest home theater systems.
Tremendous Visual Acuity: The SC-LX701, SC-LX801 and SC-LX901 support 4K/60p/4:4:4 24-bit video signal transmission with HDCP 2.2 technology, ensuring compatibility with the many upcoming UltraHD (4K) sources and televisions. So when you're ready to upgrade your visual experience, your audio experience will also be ready.
Pioneer's "Super Resolution" which was developed for the company's Elite BDP-88FD Blu-ray player has been integrated in the SC-LX701, SC-LX801 and SC-LX901 to allow the picture quality of a 4K video signals through the upscaling of HD-quality content.
In addition, these top of the line models are prepared for the next generation video standard HDR (High Dynamic Range) and BT.2020.
Google Cast: The SC-LX701, SC-LX801 and SC-LX901 will support Google Cast with future firmware update so you can use your mobile device to send your favorite music, radio, or podcast to the receiver. You can control the audio from anywhere in the house using Google Cast-enabled apps running on your personal device.
Multi-Room Audio: The SC-LX701, SC-LX801 and SC-LX901 have a Powered Zone 2/3 and Zone 2/3 Line Out and will support FireConnect by BlackFire Research, a stable wireless protocol that mirrors most audio sources connected to the receiver-from vinyl to streaming audio-on an optional FireConnect compatible speaker(s) in another room. The optional FireConnect compatible Wi-Fi speaker(s) are scheduled for release around December, 2016.
Internet Radio and Online Music: Enjoy a limitless flow of music, sports, talk, and news entertainment from internet radio stations and on-line music services, including Pandora, Spotify, TuneIn, TIDAL, and DEEZER.
High-Fidelity Networked Audio: Through a Wi-Fi connection that supports dual band 5 GHz (11a/n) and 2.4 GHz (11b/g/n), high-fidelity high-resolution sound sources can be accessed wirelessly.  Music can also easily be enjoyed through Bluetooth wireless technology and AirPlay.
Hi-Res Audio Support: In addition to high-resolution sound source (192 kHz / 24-bit) in FLAC, WAV, AIFF and Apple lossless file formats, DSD (2.8/5.6/11.2 MHz)*6 and Dolby TrueHD files are supported, giving you the ability to play a wide array of high-resolution sound sources.
No More Jitters for Network Audio: Pioneer has developed new jitter reduction system called Precision Quartz File-based Audio (PQFA) and incorporated into the SC-LX701, SC-LX801 and SC-LX901. PQFA applies high-accuracy clock control to drastically reduce "jitter" which occurs during network audio signal processing. PQFA is effective for every audio signal including audio via wired network; hi-res audio via USB; streaming audio via internet and internet radio. It's also effective for wireless networks such as Wi-Fi and Bluetooth.
The Pioneer Elite SC-LX701 ($1,600 U.S.) SC-LX801 ($2,000 U.S.) and SC-LX901 ($3,000 U.S.) will all ship in September 2016. All 2016 Elite AV receivers will enjoy a three-year warranty. More information is available at: www.pioneerelectronics.com.