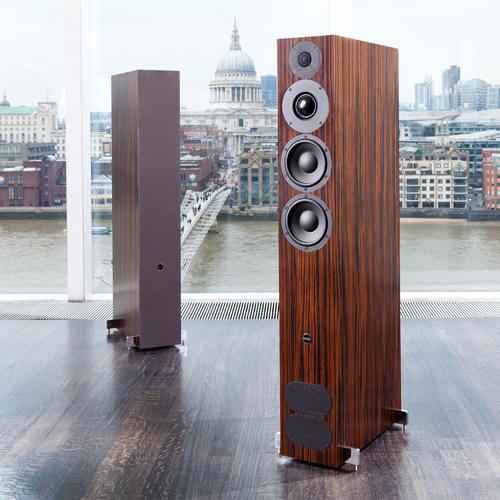 Recently shown in Munich, the new fact.12 loudspeaker from PMC is the latest edition to PMC's fact series of high performance speakers.   The fact.12 is the first three-way speaker in PMC's fact series.  Keeping with fact series styling and design, the new fact.12 features a tall slender cabinet and utilizes PMC's Advanced Transmission Line (ATL) bass loading technology.
With the exception of the proven fact tweeter, also used on the other fact models, the fact.12 was designed from the ground up as a wholly new product.  Starting with the drive units, a new140 mm coated alloy cone bass unit with a much longer linear excursion was developed. The result is the most effective ATL speaker to date, delivering the maximum energy back from the transmission line. The combined output of the twin bass drivers and that of the twin ATL vents delivers a low frequency performance very close to PMC's large scale IB2 studio monitors.
The existing PMC75 midrange dome was used as a basis for developing the new 50mm soft dome midrange for the fact.12.  Ferrofluid cooling around the voice coil enables fact.12 to output high sound pressure levels without fear of thermal damage to the unit.
The fact.12 utilizes a steep 24dB per octave three-way crossover and is the only passive loudspeaker to incorporate a true LF boost setting (i.e. increased from flat).   The foundation of the crossover is manufactured from military-grade fibre-glass boards, with hand selected and matched components, chosen after extensive listening tests and used throughout. A double-sided crossover has been employed for the first time to enable signal paths to be kept as short as possible and eradicate interaction between components without compromising the quality and quantity of components used.
Cabinet rigidity is enhanced by the use of a 35mm thick high-density front baffle and a 50mm base. The fact.12 also features extra bracing elements at critical points such as the top panel where the air pressure inside the transmission line has been found to be enormous. This creates an extremely inert structure and ideal platform for the combination of bespoke drive units and ATL to function.
To complement contemporary interior design, a new white silk finish is being introduced across the fact range, in addition to the stunning Rich walnut, Graphite poplar and Tiger ebony veneers currently available.
The fact.12 is now available with pricing details yet to be announced.  Look for more information at: www.pmc-speakers.com