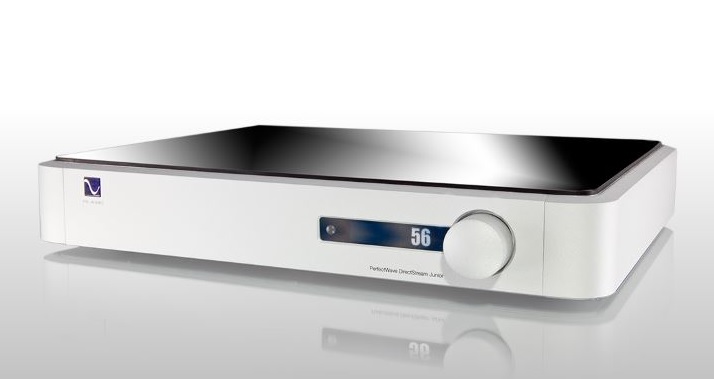 PS Audio has just introduced the DirectStream Junior; a digital-to-analog convertor (DAC) based on the company's own DirectStream DAC product. The new DirectStream Junior expertly upsamples incoming signals to ten times DSD rate and outputs it as pure analog. DirectStream Junior uses a pure DSD single-bit approach for both PCM as well as DSD media to reveal all the music and subtle low level details buried deep within the recordings, yet at a more affordable price than its sister products, the DirectStream.
The advanced FPGA and pure DSD technology employed in DirectStream was expensive – the most most expensive DAC PS Audio had ever made. PerfectWave took performance up further for an additional 41%. Alas, not all could afford DirectStream, not even all loyal PS Audio customers, so PS Audio began to work on a lower cost "Junior" model.
The product directive asked for similar architecture to DirectStream in a PerfectWave-like chassis, with the network Bridge built in and performance not less than 85% of the original. A tall order by any measure.
Retooling the chassis, replacing the touch screen with a less expensive OLED display and manual volume control was relatively straightforward work by PS Engineering. The real challenge was getting 85% of the performance at a 41% reduced price. This took over two years and the result was the DirectStream Junior.
The new DirectStream Junior has a near identical character of sound to the existing and higher priced DirectStream. Full, rich, warm, never electronic. Both units share the remarkable ability of helping Red Book CDs sound close to high resolution audio, and uncover a wealth of music long buried in home libraries.
Where the two deviate is in terms of spatial accuracy, transparency, separation of instruments, soundstage width and treble accuracy. The best measure of these differences can be expressed in percentage. DirectStream Junior provides 85% of DirectStream's performance in the aforementioned areas. The differences are not glaring, and auditioned in a vacuum, DirectStream Junior will impress listeners as one of the finest audible experiences they have yet had.
CDirectStream Junior operates with the same FPGA architecture as DirectStream, though the firmware is not identical. Differences in the front panel board and output stages between the two instruments requires different code. DirectStream Junior is upgradeable just as DirectStream is, though they use different storage mechanisms. DirectStream relies on SD card storage, Junior, USB memory sticks for upgrades.
DirectStream Junior is built in the United States by hand. Local manufacturers use sophisticated PCB building machines to populate and test the multi-layer board used in DirectStream Junior. It takes a number of companies and a lot of skill and equipment to build something this elegant and affordable. From high tech x-ray technology to place the FPGA IC on the board, to automated pick and place machines adding parts in just the right spots, DirectStream Junior's circuitry is built, tested and delivered to our Boulder Colorado facility by handpicked US vendors. The chassis of DirectStream is a metal sculpture that is by far the best we've ever built. A combination of aluminum and steel, DirectStream weighs in at 20 pounds of elegance and beauty. There is a measure of pride of workmanship that goes into every one of these PerfectWave products and it shows from the moment you open the unit up and plug it in.
Specifications
Unit Weight: 18 lbs [8.1 kg]
Unit Dimensions: 14" x 17" x 2.75" [ 36cm x 43cm x 6.98cm]
Shipping Weight: 27 lbs [12.25 kg]
Shipping Dimensions: 20.5"x 24" x 10" [52cm x 61cm x 25cm]
Input Power: Model specific 100VAC, 120VAC, or 230VAC 50 or 60Hz
Power Consumption: 30W
Digtial audio inputs: I²S, Coax, XLR Balanced, TOSLINK, USB, Ethernet
Sample Rates: I²S,S/PDIF, and USB — 44.1kHz to 352.8kHz 16bit, 24bit, DSD 64, DSD 128,TOSLINK – 44.1kHz to 96kHz 16bit, 24bit
Connector: RCA/XLR Unbalanced /Balanced (X2)
Output level, low: 1.41 Vrms(+5BV)/3.15
Output level high, maximum: 2.81 Vrms (+8dBV)/5.3 Vrms (+12dBV)
Output Impedance: 100Ω/200Ω
Frequency Response: 20-20KHz +/- 0.25dB
THD+N @ 1KHz (full scale): <0.03% Output Stage: Active high current, high speed analog amps producing double rate DSD. Format: PCM or DSD Sample rate (PCM): 44.1kHz, 48.0kHz, 88.2kHz, 96.0kHz, 176.4kHz, 192kHz, 352.8kHz Word length (PCM): 16b, 18b, 20b, 24b Data rate (DSD): Standard (2.8MHz) or Double (5.6MHz) DoP on all inputs as well as raw DSD on I²S inputs Input jitter reduction: Effectively 100%, residual immeasurable. No input PLLs, FLLs. Input Processing: 170MHz Signal Processing: 50MHz Synchronous Upsampling, all inputs: 28.224MHz Digital Processing S/N ratio: >146 dB
Digital Volume Control: Zero loss of precision
Analog Conversion method: Delta Sigma (DSD) Single-bit double rate
I²S Digital Input via HDMI handing PCM or DSD. DoP on all inputs as well as raw DSD on I²S inputs
USB Digital Input via Asynchronous USB "B" handling PCM or DoP v1.1 (DSD over PCM)
North American pricing and availability are expected to be announced shortly. Look for more details on this and other PS Audio products at: http://www.psaudio.com.