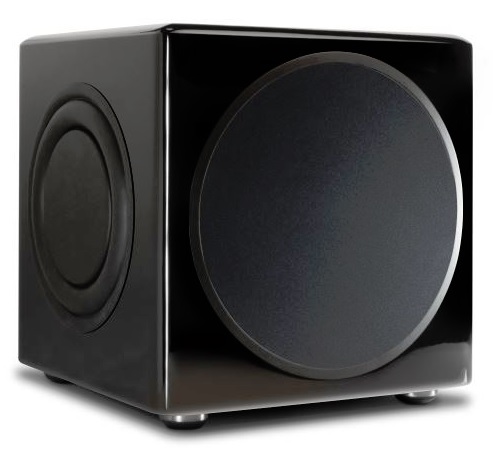 PSB Speakers has just released an all new high performance subwoofer – dubbed the SubSeries 450. This new powered subwoofer from PSB features, for the first time, an advanced 400W RMS (1,000W peak power) Class D amplifier that comes from none other than NAD, the sister company of PSB, within the Lenbrook family of audio products. The new DSP enabled SubSeries 450 is compact yet powerful and the most sophisticated subwoofer from PSB to date. Developed to deliver superlative performance for either music or home theater, the SubSeries 450 is housed in a stylish gloss black cubic cabinet, using a 12" active woofer supported by twin 10" passive radiators.
The careful engineering and precision manufacture of the SubSeries 450 provides exceptional performance, especially considering the ultra-compact dimensions if this 16" cube. Truly flat response to 20Hz is seldom achieved, especially at the high SPLs required to accurately reproduce the sound effects of today's motion picture sound tracks, yet the SubSeries 450 delivers. Music also benefits from the low bass extension of a high performance subwoofer, opening up the soundstage and reproducing the atmosphere of a good live recording. Instruments rich in low frequencies, from pipe organs and timpani, to basses and synthesizers all benefit from the tight, accurate, and powerful response of PSB's best subwoofer.
The use of digital signal processing has allowed PSB's engineering team to maximize all aspects of performance; low bass extension with low distortion, freedom from overload, and ideal crossover characteristics. This precision is simply not possible with the old analog filters still used in lesser subwoofers. The SubSeries 450 includes adjustments for crossover frequency and level, as well as variable delay to acoustically align the woofer properly with the full range speakers in the system.
The 12" (30cm) active woofer is built on a powerful motor using a 50oz magnet and 2" (70mm) voice coil for high efficiency and power handling. The 6" (152mm) spider assures precise alignment at high SPLs that directly translates into ultra low distortion. The treated felt cone offers an ideal combination of stiffness and damping and is impervious to variations in humidity. Combined with a 1" (25mm) rubber surround this driver can respond to the lowest frequencies while maintaining perfect piston motion without 'cone breakup' often encountered on lesser drivers. To extend bass response into the infrasonic region, PSB has specified two 10" (25cm) passive radiators to sum the back wave output of the woofer with the front wave. While similar in action to a ported enclosure, the PRs are free of any wind noise or 'port chuff' that can be a problem at very low frequencies and high sound pressures.
The SubSeries 450 employs an advanced amplifier developed by sister company NAD specifically for this application. A massive, tightly regulated, switch mode power supply is capable of the instantaneous high current required for accurate and powerful bass response. This is combined with one of the most advanced Class D architectures available, which is licensed from Hypex in the Netherlands. In addition to nearly immeasurable distortion, this amplifier features an extremely high damping factor and high current output, two of the most important parameters for tight and powerful bass output. It is also highly efficient and includes a very low power (<0.5W) standby mode, making the woofer instantly available yet very low in power consumption. Like all PSB speakers, final voicing is performed by Founder and Chief Designer, Paul Barton, at Canada's famed National Research Council. PSB's research has discovered how listener preferences can be integrated into a wide range of speaker designs for many different applications, yet all featuring consistent sound quality that is natural and lifelike. Key Features ⦁ PSB's most advanced subwoofer to date ⦁ DSP Control maximizes all aspects of subwoofer's performance ⦁ 400W RMS (1,000W peak power) amplifier custom designed by NAD using Hypex Class D technology ⦁ Bass reflex design utilizing active 12" woofer ⦁ Stylish, curved, gloss black cabinet ⦁ Final voicing performed by Paul Barton at Canada's famed NRC The all-new PSB SubSeries 450 will be available in March 2016 at a MSRP of $1499. More information will be provided at: http://www.psbspeakers.com.