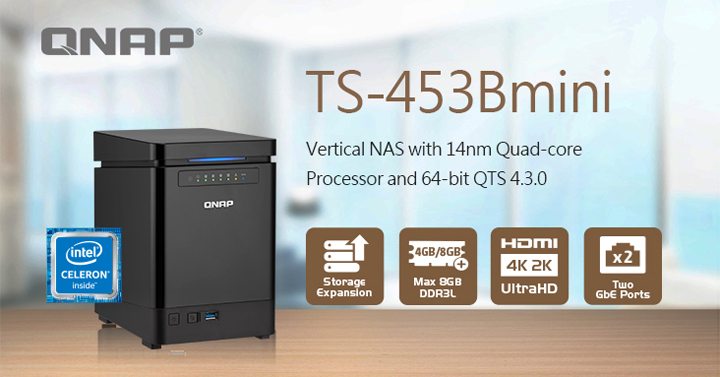 Taipei-based QNAP Systems is an innovative company that produces cutting edge network attached storage (NAS) systems designed for home entertainment and business environments.
The brand new QNAP TS-453Bmini vertical Network Attached Storage (NAS) is powered by the latest Intel 14nm J3455 quad-core 1.5GHz processor and features AES-NI encryption, 4K UHD output and transcoding. The TS-453Bmini couples elegant glossy aesthetics with high performance, security and intelligent services to provide excellent data storage, backup, sharing, and entertainment options for home and small office use.
With 4GB/8GB DDR3L dual-channel RAM, dual Gigabit LAN ports and SATA 6Gb/s, the TS-453Bmini drives up to 225 MB/s read speeds and runs tasks smoothly and quickly under dual network environments. The TS-453Bmini features Intel AES-NI 256-bit hardware-accelerated encryption for both shared folders and the full NAS volume to provide transfer speeds of up to 225 MB/s and ensure data security without compromising performance. The total potential storage of the TS-453Bmini can be expanded up to 120 TB by using an 8-bay UX-800P expansion unit (when using 10 TB HDDs).
QNAP's exclusive vertical NAS series has received excellent feedback for its excellent performance, elegant appearance, and compact design. With user-friendly features, quiet cooling, adjustable LEDs, and a tool-less design for installing and upgrading hard drives and RAM, it is ideal for smaller spaces and easy to use for everyone (without computer knowledge).
Running on the latest 64-bit QTS 4.3 NAS operating system, the TS-453Bmini offers numerous new and improved applications to increase the efficiency of management tasks and everyday use. Container Station supports various container applications and provides support for QIoT Containers and IoT applications. Virtualization Station allows users to run multiple Windows, Linux, UNIX, and Android-based virtual machines. QmailAgent centralizes multiple email accounts and simplifies daily email management. Qcontactz centrally stores and manages contact information.
The TS-453Bmini also uses advanced virtualization technologies to perfectly integrate QTS and Linux. By installing Linux Station and connecting a keyboard, mouse and HDMI display to the TS-453Bmini, it can be used as if it was an Ubuntu PC. This is especially useful for IoT developers. The TS-453Bmini also supports 4K UHD output and real-time transcoding to provide a smooth and high-quality multimedia experience across devices or where network bandwidth is limited.
Additional features include support for VMware, Citrix, Microsoft and Citrix to assist in flexibly deploying and managing virtualization environments; cross-platform file sharing for Windows and Mac and desktop/laptop backup; Windows AD, LDAP directory services and Windows ACL to improve the efficiency of permission settings. The TS-453Bmini also offers flexible backup solutions for Windows and Mac and disaster recovery solutions with RTRR, rsync and cloud storage backup.
For more info, jump to www.qnap.com or call 416-479-0558.