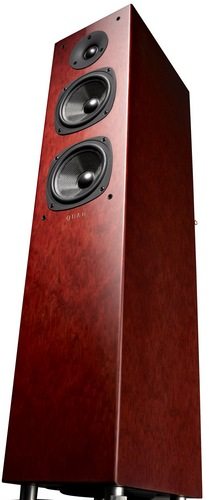 Quad has just announced their latest entrants to their L Classic loudspeaker series – the 23L Classic and 25L Classic floorstanding loudspeakers.
The two new models aim to produce a transparent uncoloured window to the music. The two models use Quad's down-firing auxiliary bass radiator (ABR) technology. This approach is intended to provide extended and virtually uncoloured low bass response and exceed the performance of typical rear ported and sealed designs.
The 23L is a 3-way design, measuring up just below the one-meter mark and housing the Classic L range's 25mm fabric dome tweeter. A 125mm woven Kevlar cone handles midrange duties and an identically sized driver looks after mid/bass operations. The 25L flagship of the series, uses the same tweeter but incorporates a brace of 125mm drivers to deliver midrange, as well as a pair of 165mm bass drivers to deliver lower frequencies.
Two different wood materials are used for the carcass of the cabinets, reducing the audibility of resonance and making the cabinet more opaque to sound. Quad laminates together high density chipboard and fibreboard in a structure that breaks up the resonant modes into multiple mini-modal frequency bands that lack the strong sonic signature experienced by more coherent panels such as MDF.
These models are finished to 'furniture grade' levels, with wood veneers carefully selected for their grain structure, and then laid, and hand polished.
Available in four finishes overall – non-lacquered cherry or piano black provide the price entry point for both models, while the lacquered versions come in cherry or piano black.
The Quad 23L and 25L are available now in the U.K. at the following MSRP: £1299.95 for the 23L and £1749.95 for the 25L. North American release and pricing is yet to be announced.
Look for more details to come at: www.quad-hifi.co.uk.