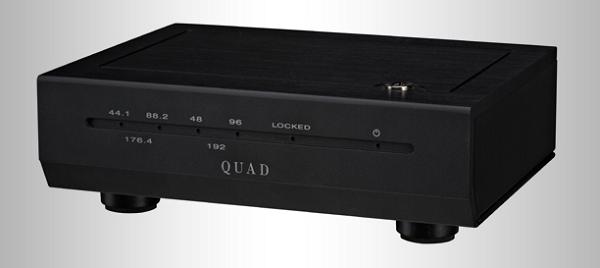 There has been a constant flow of new affordable DAC products to the audio scene over the last couple years but it's always interesting when one of the more upscale brands joins in. Quad, the well established and respected British audio company has just announced a new budget conscious DAC, their Link D-1 USB DAC. The Link D-1 takes its place in the Quad line-up within their Performance – Link Series.
The Link D-1 USB DAC allows consumers to enjoy their digital music sources from a computer (Windows or Mac) via USB connection. The product is USB 1.1 and 2.0 compliant. No custom USB drivers or software programs are required. The Link D-1 supports sampling frequencies ranging from 32kHz to 192kHz and incorporates a high quality digital-to-analogue converter (DAC). It can also serve as an USB interface simply to convert the data of music files from a computer to SPDIF signal for use with outboard DAC's.
Specifications:
• DAC Crystal CS4398
• Sampling Frequency 44.1kHz – 192kHz
• Maximum Sampling Frequency 192kHz
• Digital input 1 x USB (asynchronous mode)
• Digital output 1 x coaxial, 1 x Toslink optical
• Output voltage 4V (unbalanced)
• Output impedance 100? (unbalanced)
• Frequency response 20Hz – 20kHz (+/-0.2dB)
• Dynamic range 110dB
• Height 130mm
• Width 108mm
• Depth 42mm
• Carton size 600 x 400 x 340mm
• Net weight 0.7kg
• Gross weight 1.39kg
Price and the final release date are yet to be announced. Look for more details at: www.quad-hifi.co.uk.