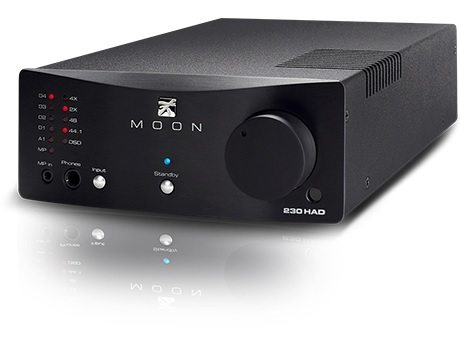 Simaudio has just announced the release of an all-new-product – their new MOON Nēo 230HAD Headphone Amplifier / Digital-to-Analog Converter.
The all-new 230HAD heavily leverages technology from the 430HA headphone amp and aims to fill a space in the current headphone market with exceptional performance-to-price and flexibility.
The integrated DSD256 /32-bit PCM DAC allows the MOON Nēo 230HAD to be used with just about any digital source including connecting a computer to an audio system for music streaming. The 230HAD can be used in anything from desktop audio systems right up to hi-end dedicated music setups, without compromise.
Those who already have a MOON system and need a control center for a secondary system or those seeking maximum performance from reasonably efficient, unbalanced headphones need to look no further than the 230HAD.
MOON Nēo 230HAD Significant Design Features:
● Inputs include 1 single-ended on rear-mounted RCA's and 1 single-ended on 1/8" jack located on the front panel
● Outputs include a ¼" TRS headphone jack, as well as both fixed and variable single-ended line-level RCA stereo pairs
● Fully asynchronous DAC with four (4) digital inputs (S/PDIF x 2, TosLink x 1 & USB x 1) allowing for use with virtually
any digital source; Supports DSD64, DSD128 and DSD256 (USB input only); Supports PCM up to 24-bit/192kHz
(all inputs) and 32-bit/384kHz (USB input only)
● Pure analog amplifier using a transconductance circuit
● An oversized power supply using 1 toroidal transformer in conjunction with 8 stages of DC voltage regulation
● Includes CRM-2 full-function remote control.
The MOON Nēo 230HAD is available now at a MSRP of $1,500.00 U.S. Look for more information at: http://www.simaudio.com