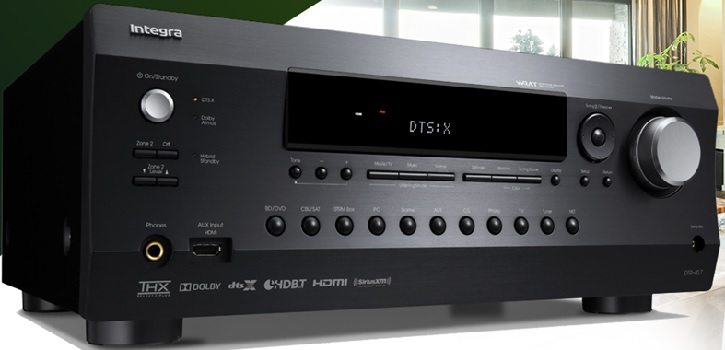 Integra has just announced three new 7.2 channel network receivers that feature Dolby Atmos decoding and are primed for DTS:X. All three new models are also Ultra HD video and premium 4K content ready – featuring HDMI and HDCP 2.2 compatibility that can pass 4K/60 Hz video complete with 4:4:4 color space and High Dynamic Range support.
The DTR-40.7 7.2 Channel Network Receiver is THX Select2 Plus certified and Dolby Atmos-enabled, while being upgradeable to DTS:X. It features HDBaseT technology, which allows HDMI audio/video signals to be transmitted over much longer distances with a more-easily-installed cable than a conventional HDMI connection. The unit is optimized for whole-home distribution and can connect to compatible entertainment devices in the home via a single CAT5e/6 cable. This ability to span longer distances with uncompressed HD multimedia including 3D & 4K Ultra HD makes the unit ideal for custom integration professionals. The unit can also take digital audio (both coax and optical) and send to Zone 2, a great feature for custom installers as more and more source devices lack analog audio outputs.
The feature-laden unit includes 4K / 60 Hz-capable HDMI terminals for Ultra HD entertainment, including 8 inputs (1 front / 7 rear) and 2 outputs (4 K Ultra HD / HDCP 2.2). The receiver boasts 175 watts per channel at 6 Ohms and 110 Watts per channel at 8 Ohms, and a premium 384 kHz / 32-bit hi-grade AKM 4458 DAC unlocks the full potential of all your audio. The DTR-40.7 carries an MSRP of $1,400 US & $1,800 CAN.
The new DTR 30.7-7.2 Channel Network Receiver supports the latest Dolby Atmos and DTS:X formats, 4K/ 60 Hz video and an array of network options, the DTR-30.7 combines next-gen features with stunning Integra sound. Getting 100 Watts per channel at 8 Ohms and 170 Watts at 6 Ohms, the DTR 30.7 features the same network connectivity as the DTR-40.7 but adds Wi-Fi and Bluetooth connectivity. It also matches the DTR-40.7 with a 384 kHz / 32-bit hi-grade AKM 4458 DAC as well as the ability to send digital audio to zone 2. The DTR-30.7 includes 3 composite video inputs; 3 digital audio inputs (2 optical / 1 coaxial); 7 analog inputs and a phono input for a turntable connection. The DTR-30.7 carries an MSRP of $1,100 US & &1,450 CAN.
Finally, the new DTR-20.7-7.2 Channel Network Receiver is Dolby Atmos ready and boasts many of the same high-quality components of its aforementioned brethren including the 384 kHz / 32-bit digital-to-analog conversion from AKM that unlocks the head-swirling realism of Dolby Atmos. Backed with 65 Watts/per/ch at 8 Ohms and 115 Watts at 6 Ohms the unit features includes 6 HDMI inputs and 1 output (4K Ultra HD / HDCP 2.2). Also onboard is an Advanced Music Optimizer to improve compressed digital audio quality and a proprietary CinemaFILTER that restores the correct tonal balance of a movie soundtrack in the smaller environs of your home theater. With its wireless capability, the DTR-20.7 is a great addition to any customized installation. The DTR-20.7 carries an MSRP of $800 U.S. & $1,050 CAN.
Look for more information on these and other integra products at: http://www.integrahometheater.com