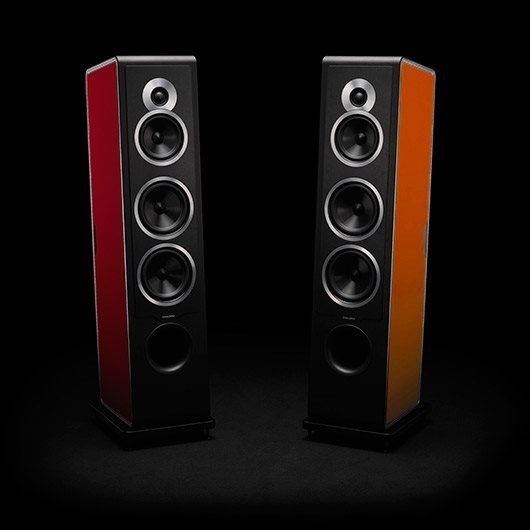 Sonus faber is launching their new Chameleon loudsspeaker collection that incorporates innovative style and design with sound quality. The new Chameleon loudspeakers will be "handmade in Italy" for the highest level of craftsmanship and construction.
Chameleon loudspeakers cabinets are covered in leather with driver flanges embellished with aluminum trims and side walls that house the exchangeable side panels via a system of pins which allows for simple removal and replacement. Choosing a finish is no longer a permanent decision with the new Chameleon loudspeakers, with the option to easly replace / switch the side panel. Sonus faber Chameleon side panels are available in 6 different finishes: WHITE, BLACK, METAL BLUE, METAL GREY, ORANGE, RED.
For the Chameleon collection, Sonus faber's designers have developed cabinet shapes and proportions that guarantee exceptional control of internal resonance, perfect acoustics, excellent driver stability and easy integration into rooms. All the driver components are built exclusively for Sonus faber by the foremost manufacturers in the field. Other special treatments during assembly put the finishing touches on the drivers before being sent to the production line. Extreme care is taken in the design of the crossover network to maintain Sonus faber's standards of excellence.
Sonus faber uses specialized software to design its speakers to exacting specifications; however, final listening tests and 'tuning by ear' ensure that emotion and humanity are instilled within the final products.
A floor-standing model, a bookshelf speaker, and a center channel provide a range of combinations that are well-suited to any environment, from the largest living room to the most intimate listening room.
The new Chameleon loudspeaker collection will be available this April – pricing, along with additional details can be found at: http://www.sonusfaber.com.