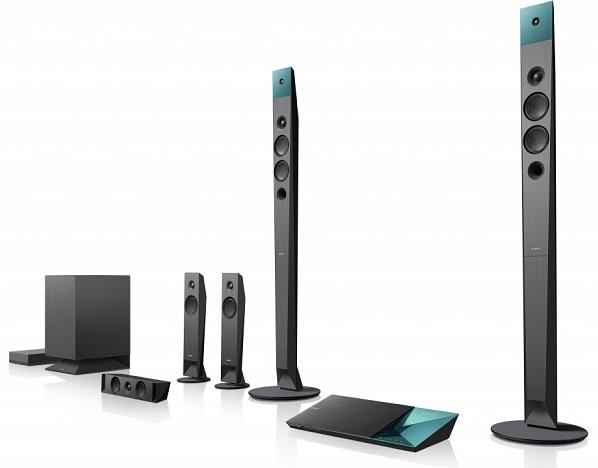 Sony Electronics has just introduced its 2013 Home Audio product lineup, highlighting their new STR-DN1040 Audio/Video Receiver and HT-CT660 Soundbar.
The new STR-DN1040 AVR is a 7.2 channel receiver that outputs 1155 Watts (165 W x 7) of power with 8 HDMI inputs.  Featuring a new chassis with imporved power transformer, Sony designed capacitors and audio-grade transistors, it is set to raise the bar on performance.  
The Sony Sound Optimizer serves maintain the sound fieldm even at low volume levels.  Sony's High Definition Digital Cinema Sound (HD DCS) is designed to adds auditory depth.  The STR-DN1040 AVR also supports Dolby TrueHD, Pro Logic IIz and dts HD enhanced audio codecs1.  And video can be converted up to 4K Ultra HD HDMI.
Sony is the only company to offer AVRs with both built-in Wi-Fi, Bluetooth and AirPlay with the STR-DN1040 receiver.  Users can also operate the receiver with the free Media Remote app.
In addition, Sony will soon make available their STR-DN840 AV receiver, a 7.2 channel, 1050 Watt unit with similar features and built-in Wi-Fi, Bluetooth and AirPlay.  It will offer six HDMI inputs, 4K pass-through, Sound Optimizer.   
Along with the new AVR's, Sony is introducing a new HT-CT660 Soundbar.  The new HT-CT660 produces330 Watts via a 2-way, 4-driver mica reinforced speaker design, complemented by a wireless subwoofer.  With three HDMI inputs connectivity is made easy.  The new Soundbar also provides Dolby TrueHD and dts HD Master Audio modes.  The HT-CT660 Soundbar also incorporates Sony's S-Force PRO Front Surround 3D technology that synchronizes sounds to match the motion and depth of images on screen.
Connecting the HT-CT660 soundbar with mobile devices such as phones and tablets to stream music is as simple as one touch of any Near-Field Communication (NFC) or Bluetooth enabled device. And with Bluetooth standby mode, you can start streaming and enjoying music without having to turn on any additional components.
The STR-DN1040 receiver has a MSRP of $599 U.S. with the STR-DN840 having a MSRP of $449 U.S.  The HT-CT660 Soundbar has a MSRP of $399 U.S.  All three products will be available in June.  
Sony has also unveiled its complete Home Theater lineup, including the BDV-N8100W and BDV-N7100W home-theatres-in-a-box.  Both new products provide 1000W, 5.1 channel 3D Blu-ray Disc Full HD 1080p playback, with built-in Wi-Fi, and wireless rear surround sound speakers. The BDV-N8100W system also features 3-way, 47-inch floor standing speakers.  The BDV-N8100W will hava a MSRP of $699 U.S., while the BDV-N7100 will be priced at $599 U.S. 
For more details on all these products, please look to www.sony.com.