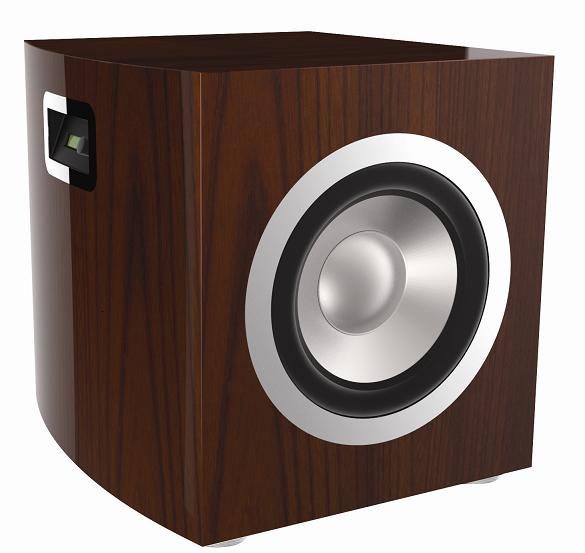 With the upcoming CEDIA 2012 show in September, Tannoy has revealed details on their new Definition Subwoofer.  The Definition Subwoofer joins the flanks of Tannoy's existing Definition series of loudspeakers.  Following in the footsteps of its fellow series models, the new Tannoy Definition Subwoofer caries design simplicity. 
In keeping with the Definition range, the substantial subwoofer cabinet is finely constructed from Tannoy's signature birch-ply laminate. Tannoy specifies that this timber is sourced from cooler, slowing growing regions to further improve the natural acoustic properties of the enclosure. Constructed of 25mm thick laminate, the cabinet uses a mix of flat and curved panels to improve rigidity as well as disperse internal reflections and standing waves. Panel joints and internal bracing follow the same techniques and craftsmanship used in Tannoy's flagship loudspeakers, creating the perfect enclosure for low frequency reproduction.
At the heart of the Definition Subwoofer is a cutting edge 1000 Watt Class D amplifier with high speed switch mode power supply. Boasting exceptionally low Total Harmonic Distortion (less than 0.05%), this amplifier delivers massive dynamic power to control the twin metal-cone LF drivers. The amplifier module is mated to a powerful Digital Signal Processing (DSP) engine that offers user controls entirely in the digital domain for the most accurate set-up and LF response. A multifunction rotary control device and LCD display is mounted on the front panel offering convenient access for adjustment to volume and all other settings.
To handle the extreme power, the Definition Subwoofer uses two 12 inch aluminium cone drivers arranged as an opposing pair and mounted either side of the ply-wood cabinet. The drivers' die cast aluminium chassis has been designed to provide optimum venting and maximum excursion
 Two phono RCA and two balanced XLR inputs are provided to feed the DSP engine and on-board amplifier, with stereo inputs combined into a single LF feed. Twin RCA and XLR outputs pass through the source input to feed to further subwoofers in the room.
Each Definition Subwoofer is hand finished in a choice of high gloss black or high gloss lacquered, real walnut or cherry wood veneers to match the finishes within the rest of the Definition loudspeaker range. The deep gloss finish is polished mirror-smooth and the subtle aluminium trims reflect the contemporary style across the entire Definition range. Heavy duty CNC machined aluminium feet provide optimum stability.
The Definition Subwoofer joins the Definition DC6LCR, DC8, DC8T, DC10T and the new DC10A to augment Tannoy's flagship contemporary loudspeaker range.  Pricing and availability are yet to be announced but look for more details to come this September.  More information will be made available at: www.tannoy.com.