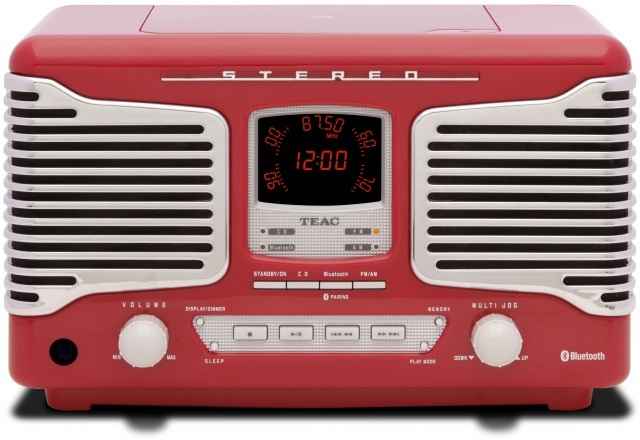 TEAC has just announced the release of their new SL-D800BT CD/Bluetooth Speaker System that has been designed to blend fun into a retro-style and functional audio entertainment system.
Key Features
Bluetooth connectivity with Smartphones, Tablets, and Laptops plus instant pairing
Available in five colours
2-channel Speaker System with Independent Bass-reflex ported enclosures
Top-loading CD Player compatible with MP3/WMA formats
AM/FM Tuner with 20AM/20FM Preset Stations (RDS for UK/EUR models)
Convenient On/Off Timer with Snooze, Digital Clock with 2-step dimmer, and Sleep Timer
Side-located USB port with charging function
A number of colours will be produced; however, availability will be country specific.  Colours include: Red, Black Silver, White and Pink.
Pressing down on the upper lid opens up a top-loading CD player that also plays WMA/MP3 discs.  Your smartphone can connect via the built-in Bluetooth wireless connection.  Connection is made simple via an Instant Pairing – just touch the top of the SL-D800BT with a compatible smartphone for immediate connection.
The SL-D800BT also serves as a AM/FM radio tuner (with a total of 40 presets) with linked to a digital clock  that has Wake-up/Sleep timer.
Behind the chrome grilles are powerful, full-range 3in drive units located within independent speaker enclosures that have been reflex-ported, for enhanced bass output.
A Liquid Crystal display (with motion graphics) adds fun to the listening, separate bass and treble controls, a remote control plus a 5v USB port mounted on the side (designed to work while the unit is in Standby mode) so that you can charge your smartphone while you're getting some sleep.
The new TEAC SL-D800BT CD is currently available at a price of $149.99.  Look for more information at: www.teac.com.
Comments are closed.