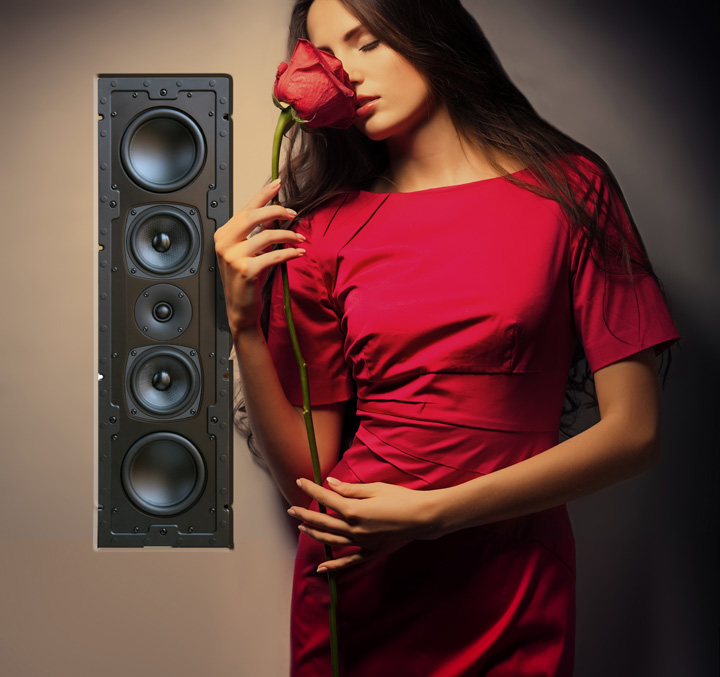 Contributed by Jason Zidle of Totem Acoustic.  Above: Totem Kin In-wall Speaker
A Guide to Choosing In-wall and On-wall Speakers
The combination of technological advancements and the burgeoning home renovation market has made custom installed speakers both a good acoustic and cosmetically attractive option. They fall into two main categories, in-wall and on wall, and there are advantages to both.
Both come in a variety of sizes and performance levels to cover every budget and application, from simple ambient music in small areas to powerful theater systems in large zones. Both unclutter your home, free up floor or furniture space, and blend into the decor. However, choosing specifically which works best for you requires understanding the intricacies beyond their basic cosmetic differences.
In-wall and in-ceiling speakers are installed directly into the drywall and fit flush, leaving only a practically invisible perforated grille to signify the speaker's physical presence. This is both their strongest pro and greatest con because some people cringe at merely putting a nail in the wall, let alone cutting a shoebox sized hole into it, but it is the stealthier of the two approaches.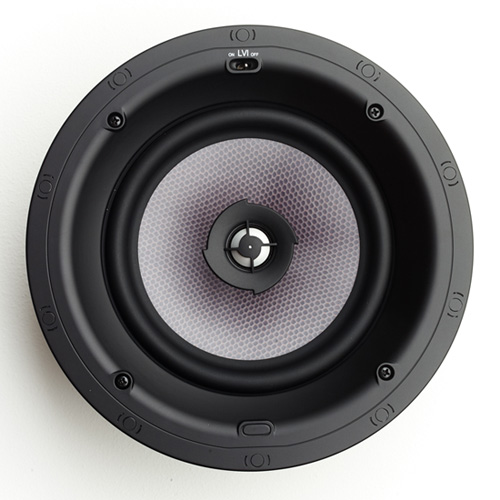 Totem's new Kin Architectural series of five in-ceiling speakers and accessories can satisfy any requirement or designer choice. The IC62ST single piece stereo speaker is perfect for smaller zones, while a pair of the larger flagship IC82 8-inch speakers are virtually as stealthy but can dynamically energize even the largest room with sound. All Kin models come with round grilles but square grilles are available as an option to match fixtures, HVAC accessories, and suit personal tastes.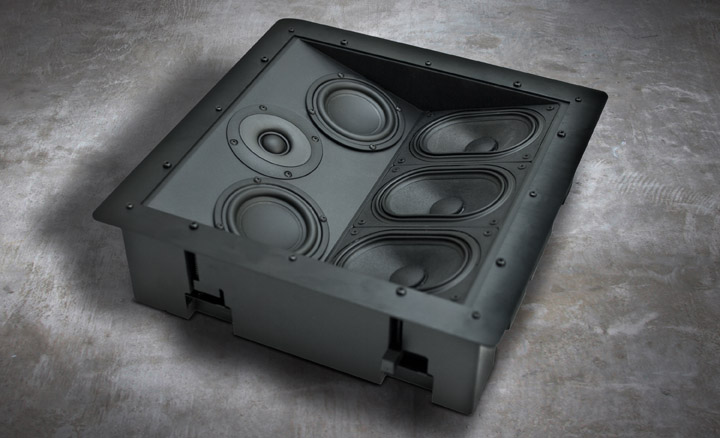 In-wall and in-ceiling speakers are generally open back designs, meaning there is no physical enclosure, which is a costly and acoustically vital component of a traditional speaker. Normally the cabinet tunes and perfects a speaker's bass performance but an in-wall speaker uses the wall cavity where it is installed as its enclosure and final tuning element. Because the materials and available space in walls and ceilings are never consistent, there will be acoustic differences in rooms using the same speakers.
The open back design also means sound can bleed through to neighboring rooms, and materials in the walls and ceilings can also potentially come into contact with the speaker and degrade performance. Adding Totem's Acoustic Back Cans can reduce sound from penetrating adjacent rooms by 24dB so you can enjoy music in one room while someone sleeps peacefully in another. They also protect the components from materials, dirt, and dust that can cause damage.
The highest end custom installation (CI) speakers have enclosures to protect the components, ensure consistent performance, and limit sound transference to overcome the main shortcomings of CI speakers. The Totem Tribe In-Wall and Kin In-Wall series feature the absolute best components, and drivers designed specifically for their enclosures to generate heavyweight bass, lifelike clarity and a holographic soundstage. But, they all require that you cut into your walls or ceiling.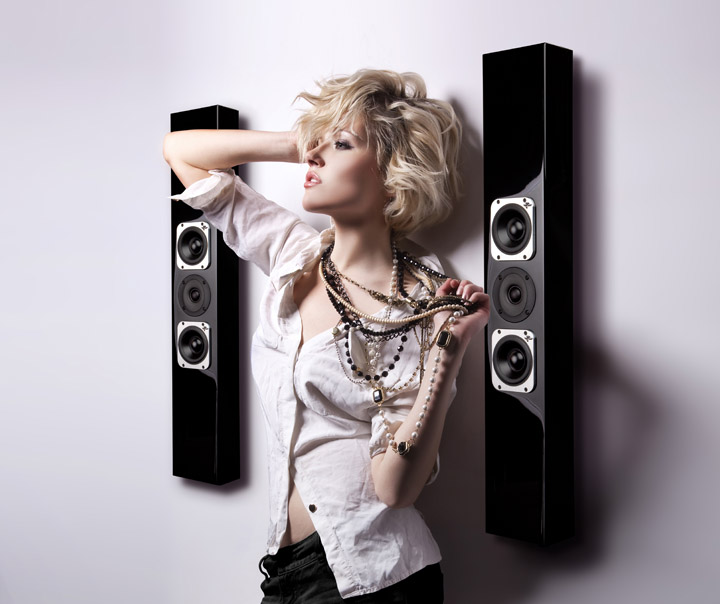 On-wall speakers provide a measure of compromise and offer some clear advantages over in-walls. While perhaps not as inconspicuous as in-walls, they are about as slim and shallow as a wall mounted flat screen and come in a variety of finishes that will cosmetically match any décor. The wall incision need only be large enough to accommodate the speaker wire required to connect the amplifier, a far less painful or invasive procedure and one that is easily remedied by even a beginner DIY'er with some plaster and a putty knife. Most include brackets that require no more wall surgery than a few drywall screws and anchors, and are easily installed in minutes.
On-wall speakers have their own cabinets so performance is always consistent and not variably affected as with in-walls. They will excel just about anywhere you want to place them and in the case of premium models, sound every bit as good as traditional speakers.

The Totem Tribe series includes four on-wall speakers and a subwoofer that all measure less than 4" deep, are available in a variety of beautiful finishes, and are technologically armed to rival the performance of large tower speakers. Artisanal cabinet construction featuring lock mitered joints, revolutionary Torrent woofers that require no crossover and have magnet strength capable of lifting a small car, and proprietary Totem formulas to synergize all characteristics make Tribe the unrivalled on-wall speaker option. Unlike in-walls where the grille is almost always installed, most Tribe owners actually leave the grilles off because they appreciate the unique marriage of convenience, style, and technology.
When comparing stealth alone, in-ceilings are better chameleons and will disappear more thoroughly while still providing wonderful sound. The counterpoint is, the overall design of on-walls will generally provide superior convenience and performance. Perhaps the main point to ponder here is the perceived permanence of the installation.
Changing in-walls requires substantial plaster work to accommodate new cutout dimensions, therefore upgrading is unlikely so consider them a permanent fixture of your house. If the goal is installing a system once and appreciating it as long as possible then in-walls are the right choice, but opt for the absolute best you can afford. Consider that these speakers can last well over 25 years so amortizing them over that period means there's a tiny cost difference between good and great speakers. And if this is part of a full custom renovation with home automation, security, lighting, etc, the audio portion only represents a small percentage of the overall cost.
Just remember that your beloved speakers would have to be forsaken should you ever move because leaving gaping holes would not be an acceptable situation for a new buyer. Be warned that the guilt of abandoning them is crushing.
On-wall speakers allow you to easily bring them should you move, and require little labor involved in concealing their previous existence. They also have a much stronger appeal to the audio enthusiast, who appreciate both the superior performance and the simplicity involved
in upgrading them. They can be replaced or repositioned virtually as easily as changing a picture on a wall.
The good news is that stealthy, sensational sound is easily achievable through either approach. The slightest edge to overall performance and versatility goes to on-wall speakers. In-wall and ceiling options are far less apparent so they have greater appeal to those who think speakers should be heard rather than seen, and prefer to install something once and enjoy it for the lifetime of their home. Choose Totem and you'll love either option.
Created in 1987, Totem Acoustic is proudly celebrating 30 years of crafting artisanal speakers in Montreal, Canada. Totem's mission is to develop loudspeakers capable of reproducing a truly musical and involving performance, provide designs that are affordable, convenient solutions, and are real 'soul movers' for the music, movie, and gaming enthusiast. Discover yours today.
For more info, jump to www.totemacoustic.com