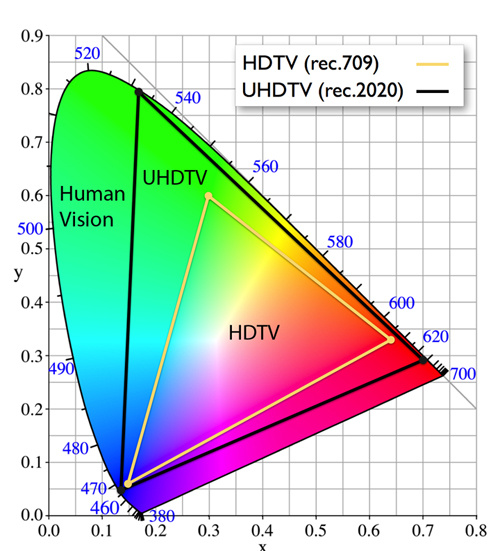 Figure 3 shows how the Wide Colour Gamut (WCG) available to UHD TVs dramatically expands the range of colours that can be displayed.
Wide Colour Gamut (WCG)
Current TVs display a rather small portion of the colours our eyes can see.  The Wide Colour Gamut (WCG) available to UHD TVs greatly expands the range of colours that can be displayed, which in turn means that all on-screen colours appear more natural compared to the colours in the real world.  This expanded colour gamut is easily demonstrated by the graph shown in Figure 3 – notice how many more colours are available by using the new rec.2020 (UHD) standard, compared to the existing rec.709 (HDTV) standard.
High Frame Rate (HFR)
The frame rate refers to the number of images shown by a TV for every second of video. The higher the number, the smoother the motion and the more natural moving images appear on the TV screen.  The UHD picture standard allows for a picture with 60 frames per second (fps), in contrast to 24 or 30 fps offered by the 1080p standard.  In order to display 60 fps, both your TV and video source will have to be equipped with HDMI 2.0 (or better) ports, and you will of course need an HDMI 2.0 cable.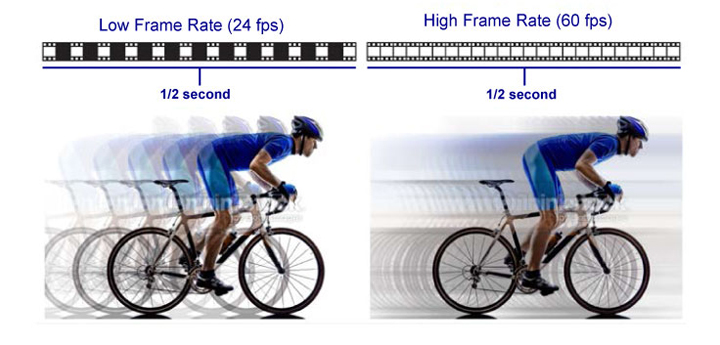 Image above shows the difference between a low frame rate and a high frame rate.  An increased number of picture frames per second results in a much more natural motion on the screen.  Image reprinted from www.uhdalliance.org.
UHD: Enjoying All of Its Benefits
In order to enjoy the full glory of UHD TV, you'll need to look for video components that sport the "Ultra HD Premium" badge, or research the specifications of the product online, to make sure that it offers each of the attributes detailed above.  Also, keep in mind that the "Ultra HD Premium" certification is different for LCD and OLED TVs because they have different maximum light characteristics. As a consumer, you will need to decide if you want the brightest whites of an LCD TV or the deepest blacks of an OLED TV.
At the time of this writing, the first UHD Blu-ray player is already available in stores – the Samsung UBD-K8500 ($599). Panasonic will introduce its higher-end DMP-UB900 player this fall, which will offer Dolby Vision HDR that will work with compatible displays such as LG's 2016 UHD TV range.  With an HDMI 2.0a output (with HDCP 2.2 copy protection), both players will playback the UHD resolution, with High Dynamic Range (HDR) and Wide Colour Gamut (WCG).
The Panasonic DMP-UB900 will be the first UHD Blu-ray player to offer Dolby Vision HDR technology.
"4K Ultra HD" Blu-ray movies, with the "Ultra HD Premium" badge, are also already available on sites like Amazon, and we can expect to see them soon in stores.  Studios including 20th Century Fox, Sony Pictures Entertainment, Warner Bros., Shout! Factory and Lionsgate will all have "4K Ultra HD" movies out this year.  Be aware however, that a lot of these movies are 1080p movies that have been simply up-scaled to 2160p.
Streaming sites such as YouTube, Netflix and Amazon Prime also offer UHD content, albiet at the time it is highly compressed and a lot of it doesn't look any better than 1080p content.
Rogers Communications has also already released a UHD cable box that allows you to access UHD movies and most importantly home games of the Toronto Raptors, Maple Leafs and Blue Jays. Isn't that exciting? Bell is expected to follow suit soon.
If you're in the market for a new TV today, there is no question that you should be looking for a UHD model.  As the technology continues to mature, an increasing amount of UHD content will be available to feast your eyes on.  If you want to enjoy all of the benefits that the UHD standard is capable of, be sure to research the TV models you are considering throughly to make sure that they offer all the necessary UHD features.
Happy watching!