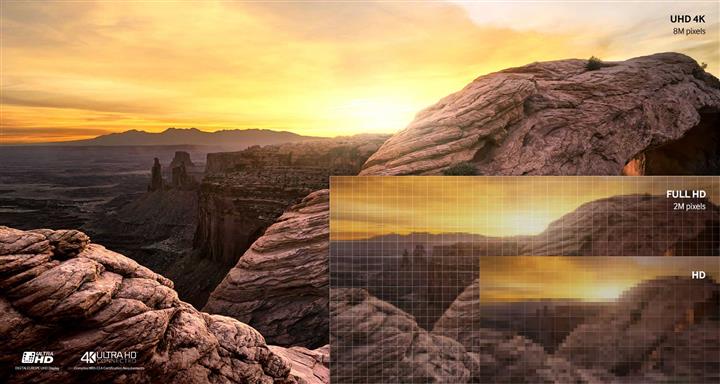 When Ultra High Definition TVs began hitting store shelves a few years ago, manufacturers referred to them as 4K TVs.  More recently however there has been a shift to market them as UHD TVs. Today, every major TV brand offers UHD TVs in varying screen sizes and price points.  Choosing a UHD TV can be a little confusing but I'll do my best to bring you up to speed on the world of UHD in this article.
Most consumers are aware that UHD offers a higher resolution compared to the 1080p high definition picture, but the truth is that UHD offers far more than just the increased resolution.  In its full implementation, the UHD format provides numerous picture improvements that enable viewers to enjoy motion pictures with greater realism and allow film directors greater artistic creativity.
The trouble with the transition to UHD is that it was rushed to market and not all of its benefits were implemented at once.  Frankly, the transition has been nothing but an incredible mess, causing plenty of industry and consumer confusion.  The first TVs to offer the higher 3840 x 2160 pixel resolution were labeled as "4K TVs" and did not offer any of the other key picture benefits that the UHD standard is capable of, such as High Dynamic Range (HDR), increased bit depth, revised gamma standard, Wide Colour Gamut (WCG) or high frame rate options.  These additional features have slowly made their way into various TVs models, however it has been optional for manufacturers to choose which of these features to include in their TVs.  Therefore some TVs in the market today offer nothing more than the increased resolution, while others offer one or more of these additional picture improvements.  If you have already purchased a 4K or UHD TV, you may be able to take advantage of the higher picture resolution, but you may not be able to see any of the additional picture benefits.
In order to enjoy UHD content in its full glory, you will need UHD content, a UHD video source and a UHD display – all of which will need to offer all of the aforementioned UHD picture features.  Confused yet?  Don't worry, you're not alone.
To make some sense of the mess, in January 2016, the UHD Alliance revealed a new standard called Ultra HD Premium.  The UHD Alliance explains that "the ULTRA HD PREMIUM logo is reserved for products and services that comply with performance metrics for resolution, high dynamic range (HDR), peak luminance, black levels and wide color gamut among others. The specifications also make recommendations for immersive audio and other features. These advances in resolution, contrast, brightness, color and audio will enable certified displays and content to replicate the richness of life's sights and sounds and allow in-home viewers to more fully and accurately experience the content creator's vision."
Starting this year, we will begin to see UHD TVs and UHD Blu-ray players in stores with the ULTRA HD PREMIUM logo. Streaming video services will also offer this certification.  Only products and streaming services with this logo are guaranteed to offer the full set of benefits of the UHD picture standard.
For a little while now, there has been an industry effort to start consistently using the term UHD TV, instead of 4K, to indicate that the new standard offers more than just increased resolution.  As mentioned above, the UHD picture standard offers six key improvements over the HD picture.  These include: image resolution (3840x2160p), High Dynamic Range (HDR), increased bit-depth (10-bit), revised gamma (SMPTE ST 2084), Wide Colour Gamut (WCG) and High Frame Rate (HFR).  Let's take a closer look at each of these improvements and how they translate into a better picture.
Increased Resolution
UHD TVs offer a 3840 x 2160 pixel resolution, technically called 2160p, for a total 8,294,400 pixels.  That's four times as many pixels compared to a full HD 1080p image which offers a resolution of 1920 x 1080, or a total of 2,073,600 pixels.  What does that mean in terms of picture quality?  The increased resolution translates into a sharper, more detailed picture and its benefits are particularly noticeable on larger TV screens.  In order to see the benefit of this increased resolution, you'll need a TV that's large enough and sit sufficiently close to the TV.  Take a look at Figure 1 on this page which shows how close you need to sit to a specific screen size to see the difference between different screen resolutions (reprinted from www.carltonbale.com).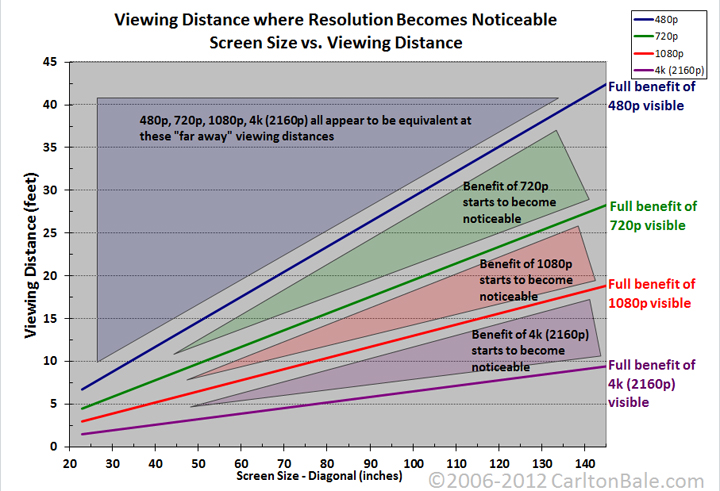 Figure 1: This chart shows how close you need to sit to specific screen sizes to see the benefits of higher screen resolutions.  You can read more about this topic at www.carltonbale.com/does-4k-resolution-matter.
In 2006, BBC amazed us with their incredible nature documentary "Planet Earth" series using a mix of 720p and 1080p cameras.  And now they are at it once again shooting our planet's beauty in 2160p for a future "Planet Earth" series.
High Dynamic Range (HDR), Bit Depth, and Revised Gamma
Many experts consider High Dynamic Range (HDR) to be the most significant upgrade to our video system since the introduction of colour TV.  HDR significantly widens the picture contrast, or the difference between the brightest and darkest images.  With HDR video material you'll be able to see truer to life details in both the bright and dark parts of the picture.  Take a look at Figure 2 on this page.  With a standard dynamic range of current TVs, the trees are barely visible against the hill in the background and the glow of the sun blends completely into the sky.  With HDR the trees become clearly visible against the hill, while the sun offers a life-like glow without washing out the sky.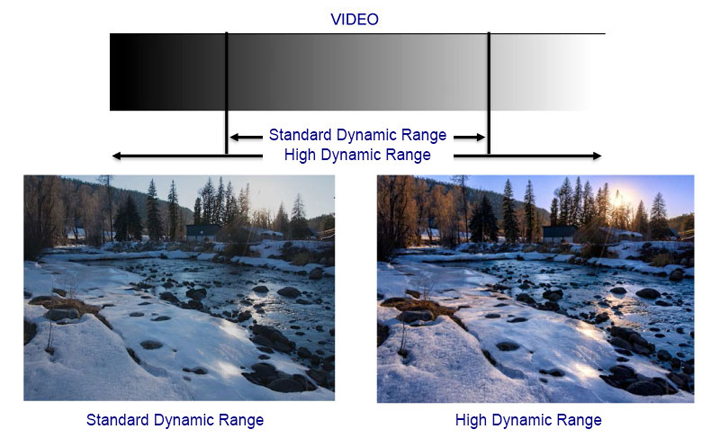 Figure 2: Take a look at the difference between Standard Dynamic Range and High Dynamic Range (HDR).  Notice how many more details are visible in the HDR picture.  Image reprinted from www.uhdalliance.org.
To enable HDR, the UHD standard uses a 10-bit colour depth, along with a revised gamma curve, allowing for 1,024 shades of each of the three primary colours red, green and blue.  The current 8-bit standard allows just 256 shades of each primary colour.  Bit depth does not determine contrast ratio directly however; it refers to the number of shades that any pixel is capable of displaying. The new 10-bit colour depth allows TVs to display 674.5 million colours, compared to 10.6 million colours displayed by the 8-bit colour depth standard.  This expanded bit depth combined with a new gamma standard called SMPTE ST 2084 allow UHD video material to offer a picture that is closer to real life than ever before.
Unfortunately at the time of this writing, two competing HDR formats exist: HDR10 and Dolby Vision.  Technicolor and the BBC have also proposed their own HDR standards. Samsung and Sony are backing HDR10, while LG and VIZIO are releasing new TVs compatible with both formats.