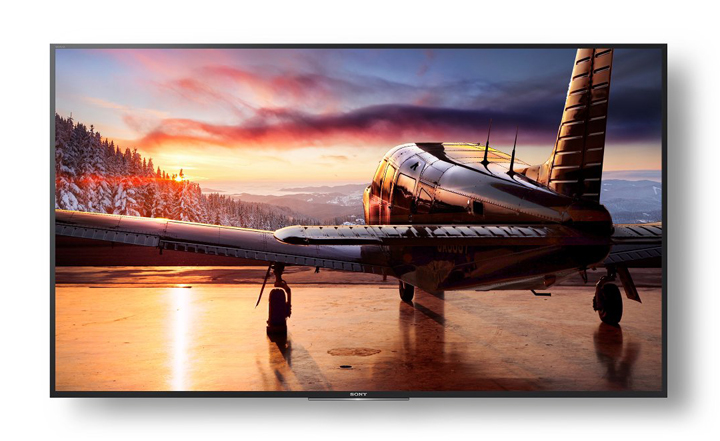 Sony has just announced the Z series, the next generation in television display technology with the ability to reproduce the deeper blacks, brighter lights, and vibrant colours of the real world. The new flagship Z series sits atop Sony's current X series line-up of premium 4K HDR Ultra HD TVs. The new "Z" moniker designates a significant leap forward and the ultimate in display technology. With this advance, Sony brings 4K High Dynamic Range (HDR) to a new level with ultra-contrast and even more realistic, accurate colour, in order to express what the content creators truly intended.
The new Z series has adopted the Backlight Master Drive technology, which Sony introduced as a prototype at CES 2016. The Backlight Master Drive is precision backlight boosting technology, which expands brightness and contrast to truly tap the full combined potential of 4K HDR. To further enhance contrast, the Backlight Master Drive features a dense LED structure with a super accurate lighting algorithm, discrete lighting control, and a unique optical design with a calibrated beam LED, delivering unprecedented dynamic range with incredibly deep blacks and dazzling lights for scenes that look more real than ever before.
Previously, local dimming was controlled by zones with several LEDs. The discrete LED control feature allows the Backlight Master Drive to dim and boost each LED individually. With the latest local dimming algorithm, the Backlight Master Drive delivers total precision for unparalleled contrast and realism. The Backlight Master Drive also has a unique optical structure: a calibrated beam LED design. It gathers the emitted LED lights in a spot and focuses the drive area more narrowly to display higher contrast. It also reduces light diffusion and the flare effect that can be seen on other full-array LED TVs.
Additionally, the Z series features a newly developed 4K image processor, the 4K HDR Processor X1 Extreme. Combined with Backlight Master Drive, the Z series is able to attain extraordinary contrast and extremely accurate, wide colour expression. It offers an even more impressive visual experience with 4K HDR content.
The new 4K Processor X1 Extreme was developed in order to provide the ultimate 4K HDR visual experience and is further refined with 40 per cent more real-time image processing power compared with Sony's 4K Processor X1. Incorporating three new technologies: object-based HDR remaster, dual database processing, and Super Bit Mapping 4K HDR, the X1 Extreme brings 4K HDR content to a whole new level.
By analyzing images in each scene and correcting the colour and contrast of each object individually, object-based HDR remaster can reproduce scenes with the detailed texture and appearance of real life. This technology also upscales HD content to near 4K HDR quality. In addition to the up-scaling database, the 4K HDR Processor has a database specifically for noise reduction. This processor searches through the thousands of picture patterns in these unique databases, analyzing each pixel individually in real-time. The dual database processing removes unwanted noise and up-scales every image to a crystal clear 4K-quality image.
In addition, Super Bit Mapping 4K HDR creates a smoother, natural picture. With 14-bit powerful signal processing, it breaks up the solid bands of colour of 8-bit (FHD) or 10-bit (4K) source, up-converting 14-bit equivalent gradation with 64 times more colour levels. It delivers graceful reproduction of faces, sunsets and other areas of subtle colour gradation.
With these three technologies, 4K HDR Processor X1 Extreme reproduces a wide variety of content with immersive 4K HDR picture quality. Combining the 4K HDR Processor X1 Extreme and the Backlight Master Drive, the new Z9D series offers a visual experience with more depth, texture and depth than previously possible.
But, the viewing experience goes beyond the screen. The Z9D has a slate design that encapsulates the ultimate experience. From the front, the design exudes sophistication in the form of a simple black slate, letting viewers immerse themselves in the stunning power of 4K HDR. From the back, the design keeps all the cables completely concealed, ensuring that the device strikes an elegant look from any angle.
The Z series also runs on Android TV with Sony's exclusive user interface. Android TV lets you explore a world of movies, music, photos, games, search, apps and more. TV lovers can watch hit shows and timeless movies from Google Play and enjoy what they like to do on a smartphone or tablet, from their TV. In addition, Android TV's Voice Search feature has been enhanced to support natural language voice actions and longer, more complex sentences. And with Google Cast, users can cast their favourite entertainment apps such as Netflix from their Android or iOS device, Mac or Windows computer or Chromebook to the TV.
From live TV broadcasting to Internet video services, the new seamless user interface Content Bar includes enhanced content navigation along with voice search. The new Content Bar features a genre filtering function (availability region dependent). Instead of selecting a program from several channels, users can easily select a program from favourite genres such as sports, music, news, etc.
Z Series Canadian Pricing and Availability
The Z Series 65" and 75" class 4K HDR Ultra HD TVs will be available this summer.
• XBR65Z9D, 65" class (64.5" diagonal), $7,999 CAD, available summer 2016
• XBR75Z9D, 75" class (74.5" diagonal), $11,999 CAD, available summer 2016
• XBR100Z9D, 100" class (99.5" diagonal), pricing and availability details to be announced later this year