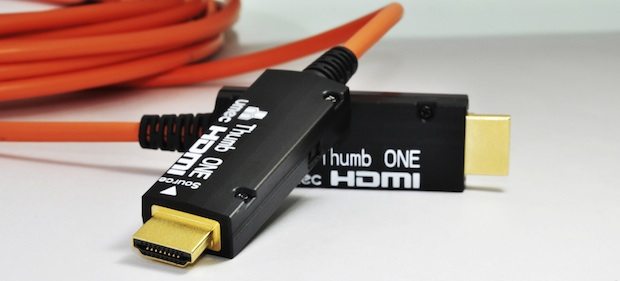 Universal Microelectronics Co., Ltd. (UMEC) is a Taiwan photonics company that has just recently introduced a new HDMI cable product. UMECs new 100 meter (330ft) High Speed HDMI Cable named "Thumb ONE HDMI AOC" provides an innovative solution for extended length HDMI cables.
With the growing need for flexibility in the placement of HDMI devices, such as in the case of a projector based home theatre setups, longer non-signal-degrading HDMI cables are a welcome option. The Thumb ONE is thinner, 4.4mm diameter, and lighter than typical HDMI cables, utilizing Silicon on Bench (SiOB) technology into an Active Optical Cable. The UMECs Thumb ONE HDMI Optical Cable supports Dolby True HD and DTS-HD format with high resolution 2160p 30Hz (potentially 60Hz), and 48 bit Deep Color.
The hybrid cable combines optical fibres and copper wires in an active manner to achieve the objective of longer length without signal degradation. At each of the ends of the cable are a transmitter with a type A plug that connects the signal source device (e.g. Blu-ray player) to the receiving device (e.g. AV receiver or projector). An additional connection at each end to powered sink devices completes the required hook-up.
At present, there is no pricing released.
More details can be sought at: http://www.umec.com.tw