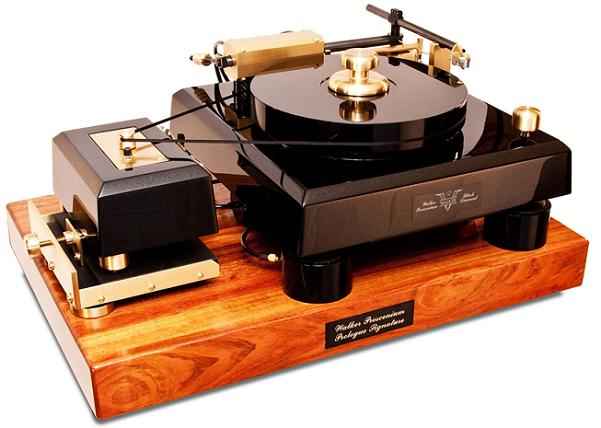 Walker Audio, a manufacturer of high-end audio products, has just introduced their new Proscenium Black Diamond V turntable.
The Proscenium Black Diamond V (PBD V) incorporates enhancements to the air supply, record clamp and motor base assembly.  In addition, Walker Audio has just discovered a new specially-treated, fine-grained crystalline material, that reduces static build-up and cancels the effect of virtually all EMI, RFI and microwaves.  This new material is now employed at strategic locations on the PBD V.  Walker Audio claims that the effect of this new material is a dramatic reduction in the noise floor and prevention of distortion induced by ambient electrical noise.
The PBD V turntable is friction-free due to the air-bearing arm and platter, resonance-free due to its adjustable air suspension, electrical-noise-free due to the PBD V upgrades and the linear-tracking arm plays records exactly the way they're made, eliminating tracking errors.
The result is the most accurate, realistic-sounding turntable ever made. The sound is amazing with the blackest of black backgrounds, transparency is crystal-clear, dynamics are explosive, soundstaging is expansive and the bass is profound. Many considered the previous PBD turntable to be the best turntable in the world, but the new Proscenium Black Diamond V is an uncompromised work of audio art that has to be experienced to be believed.
All previously-purchased Walker Proscenium turntables can be upgraded to the Black Diamond V specs. The new Proscenium Black Diamond V turntable is priced at $105,000.00 USD.  For more information visit www.WalkerAudio.com.