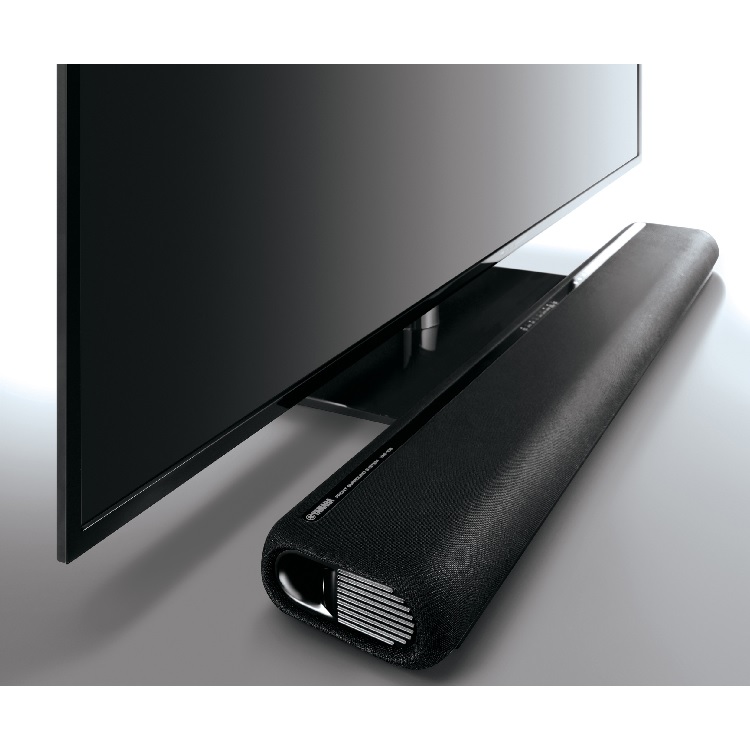 Yamaha has announced two new sound bar products – the YAS-106 and the YSP-2700.
The YAS-106:
Sports an attractive, ultra-slim design that delivers a convincing virtual surround-sound experience from Dolby Digital and DTS multichannel soundtracks, without requiring multiple speakers.
The new YAS-106 incorporates dual built-in subwoofers, twin bass reflex ports, and Advanced Bass Extension Processing for surround playback. To make things even simpler, the YAS-106 eliminates the need for a separate bulky subwoofer enclosure, while still being very cable of producing tangible bass for shows, movies or music. However, for those who are all-about-the-bass, a separate subwoofer can be connected, as the YAS-106 provides the necessary output connections.
With an HDMI input and output supporting the direct connection of such video sources as Blu-ray Disc/DVD players or cable-TV set-top boxes, the YAS-106 is assured of receiving a true 7.1- or 5.1-channel audio signal. HDMI allows the YAS-106 to provide the most convincing virtual-surround experience with just one single cable, a clear step above other sound bards that connect using an inferior optical digital connection that only provides a stereo signal.
The YAS-106 can be controlled wirelessly via Bluetooth from Android and Apple mobile devices running the free, simple-to-navigate Yamaha Home Theater Controller app.
Yamaha Clear Voice raises dialog levels in the YAS-106 to ensure dialogue audibility no matter what's going on in the background of a scene. The feature is particularly handy for listening to sports-program commentary and news broadcasts.
With the latest HDMI 2.0 connections, the sound bar passes through not only full HD from Blu-ray Disc players, but also the latest high-performance video format — 4K Ultra HD video with high dynamic range (HDR) – from new 4K Ultra HD Blu-ray Disc players and from future Internet-connected HD media streamers. HD cable- and satellite-TV set-top boxes can also be connected to the sound bar's HDMI input.
The YAS-106 is a mere 2 1/8 inches tall when placed in front of a flat-screen TV, so it won't block your view of the onscreen action. The 35-inch-wide sound bar offers great flexibility in wall placement and can be rotated to match the orientation of wall-mounted TVs.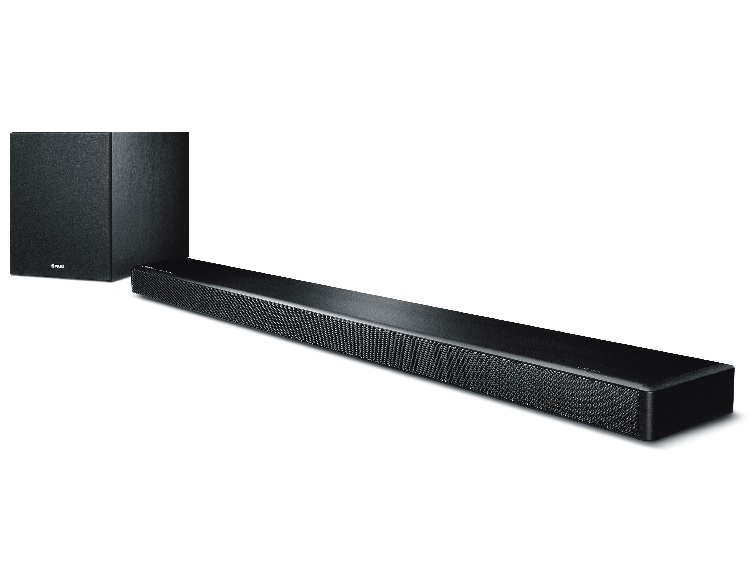 The YSP-2700:
The Yamaha YSP-2700 MusicCast Sound Bar with Wireless Subwoofer delivers true 7.1-channel surround sound, with wireless multiroom audio streaming. This sound bar uses 16 speakers, each separately powered, to produce discrete sound beams, which are reflected off walls, producing an enveloping surround sound experience. In addition, the YSP-2700 has a cube-style, floor-positioned wireless subwoofer provides resounding bottom and rumble.
The YSP-2700 also incorporates Yamaha MusicCast, a new way to bring music to every room in a home wirelessly with control from a simple Android or iOS app. It enables the YSP-2700 users to effortlessly stream music from mobile devices and computers, as well as from services such as Pandora, Spotify, Rhapsody and SiriusXM Internet Radio, directly to the sound bar. The YSP-2700 can be easily linked to other MusicCast speakers, AV receivers and Hi-Fi gear in other rooms, to share music sources throughout the home.
Using MusicCast, the YSP-2700 can redistribute content from multiple input sources or allow listening to the TV sound throughout the home. This unusual benefit makes it possible, for example, to transmit sound from a favorite cable TV music channel to MusicCast speakers elsewhere in the house, or listen to a sports event in multiple rooms at the same time–an especially great feature for game day parties.
Further enhancing its distinction in the market, the YSP-2700 is equipped with three HDMI inputs and one output. HDMI connectivity ensures the sound bar can receive a true 5.1-channel or 7.1-channel audio source that won't be down-converted by a TV to 2-channel stereo from the TV's optical output. Support of HDCP 2.2 copy protection ensures signals from a new Blu-ray player, set-top box or other source will have unimpeded playback via HDMI.
These HDMI input options also enable home theater enthusiasts to enjoy their favorite movies in either Dolby Digital 5.1-channel surround or Dolby True HD, which is noteworthy for its clear, lossless signal carrying up 7.1 channels. The YSP-2700 also stands out for its support of DTS surround sound technologies, including the high-quality DTS-Master Audio format that is rarely found on other sound bars.
The YSP-2700 features versatile connectivity via WiFi, AirPlay and Spotify Connect, as well as Bluetooth streaming either into or out of the sound bar, making it easy to listen in privacy with Bluetooth headphones, or enjoy the audio from the big game out on the deck with a Bluetooth-connected speaker.
For a grippingly realistic home theater experience, the YSP-2700 supports pass-through of pristine 4K Ultra HD resolution video at up to 60p, delivering dynamically realistic blur-free fast-action images.
The new Yamaha YSP-2700 ($1,199.95 U.S. MSRP) will be available in September, while the aforementioned Yamaha YAS-106 will be available in mid-August at $199.95 U.S. MSRP. Look for more details on these and other Yamaha products at: https://www.yamaha.com