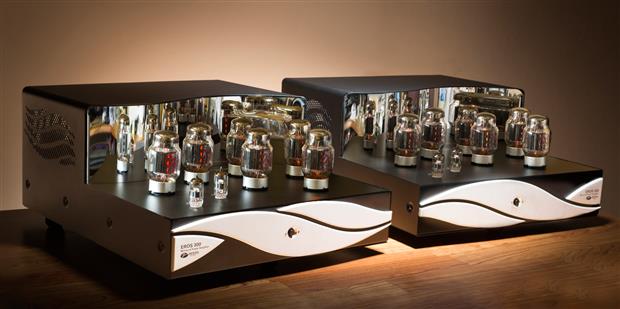 Zesto Audio has just announced the launch of their new EROS 300 Monoblock amplifiers. The premiere showing and demonstration of the EROS 300 Monoblock will be at the upcoming Rocky Mountain Audio Fest in Denver, Colorado USA, October 2-4, 2015, Room #1117.
More than 3 years of development and 79 circuit revisions have led to the production of the new Eros 300 monoblock amplifier. The new amplifier balances power with musicality. The Eros 300 has plenty of power to drive your speakers with a matched sextet (6) set of KT88's and two 12AU7's producing 150 Watts per block of pure Class A power. The circuit design and power supply are quite different from Zesto's Bia 120 Stereo power amp. The Eros 300 uses a Push-Pull and Ultra-Linear circuit topology and a more robust choke based power supply incorporating a custom Toroid power transformer. The Eros 300 also has Auto-Bias, maximizing tube life and minimizing maintenance.
The EROS 300 has 2 options for your speaker cables, the 3 way binding posts or the Speak-on connector. The 4 & 8 Ohm taps provide an efficient transfer of power to your speakers. All fuses are easily accessible. The XLR input connector has its own ground lift switch to eliminate hums.
The new Zesto Audio EROS 300 monoblock retails for $19,900 U.S. per pair. For more information please visit: http://www.zestoaudio.com