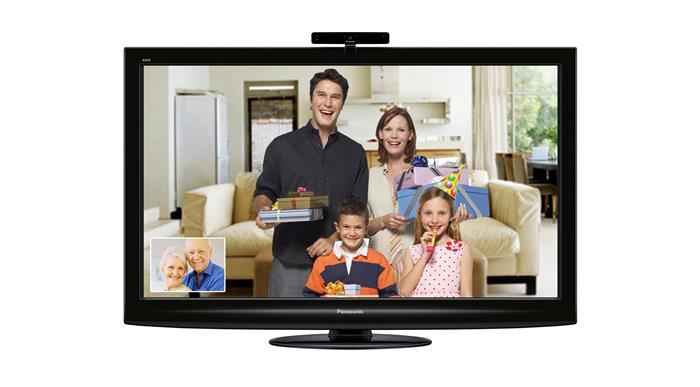 Every year, while New Years resolutions are still being attempted and you've finally read through the manual and figured out how to use all the functions on your new electronics, along comes the Consumer Electronics Show to make everything look obsolete (again). CES, held in Las Vegas, the convention capital of the world, is the venue where the latest technology, gadgets and electronics make their debut to North America, and often, the world. It's the equivalent to the Detroit/Frankfurt auto shows but for electronics. To put in perspective how important CES is to manufacturers, Sony and Vizio introduced thirty-eight new TVs while LG introduced thirty-nine. In a move that should be matched by other manufacturers, Vizio's entire 2010 lineup has abandoned CCFL and is entirely LED backlit.
Without a doubt, the centrepiece of this year's CES was 3D. Manufacturer including Panasonic, Samsung, LG, Toshiba and Vizio were all showing off their latest 3D-capable HDTVs. While 3D has existed for years, the phenomenon has recently been thrust back into the spotlight with the colossal success of James Cameron's "Avatar", a film that still continues to sell out IMAX 3D theatres days in advance. To date, it has made over $1.3B USD and while this writer disputes its all-time rank due to a lack of inflation-adjusted numbers, it still continues to top the weekend box offices months after premiering.
3D HDTVs should slowly start making their way into consumer homes as early as the spring of 2010. Although most manufacturers didn't release pricing information, most said that 3D HDTVs should be available for a small premium compared to traditional TVs. Panasonic should be the first out of the gate with its VT25 series of plasma TVs, which will be the successor to the company's high-end PV10 series. Two sizes of this TV will be available – a 50-inch and a 54-inch. Each set will include one pair of 3D glasses. Panasonic calls its system "Full HD 3D" since each eye will get the full 1080p resolution. Panasonic will also release a 3D Blu-ray player which will be required to play 3D movies. Samsung's 3D television line-up includes the LCD LED-backlit series LED 9000, LED 8000 and LED 7000 as well as standard LCD and plasma televisions. Samsung will also be introducing a 3D Blu-ray player, the BD-C6900. LG's LE9500 series (also called INFINIA) will introduce 47 and 55 inch 3D HDTV models. Not to be outdone, Toshiba will also be releasing the ZX900 series of high-end LCD LED-backlit 3d TVs, expected to start shipping in September of 2010. What's surprising is that all the TVs in this series will have the Cell processor, which first appeared in the PlayStation 3, built-in. Toshiba says that this chip will enable its TVs to convert any 2D content to 3D. How well will this work? We'll just have to wait and see. Vizio's 47 inch XVT Pro 470SV 3D 1080p will be available this summer for $1,999 USD MSRP, a slight premium over comparable 47 inch 2D HDTVs but also coming with features such as built-in virtual surround sound.
As with many new technologies, it is arguably the content that pushes adoption. What good was your 1080p HDTV when all you were watching were upscaled DVDs? Fortunately, two announcements by two separate studios help solve the chicken/egg dilemma. First, ESPN has announced that it will start broadcasting 3D sports, starting with FIFA World Cup action in June 2010. Regular American football will follow shortly after. Second, Sony is teaming up with IMAX (a Canadian invention) and Discovery Communications, owner of channels such as Discovery Channel (Shark Week in 3D!), TLC, Animal Planet, and the Oprah Winfrey Network to bring a 24-hour dedicated 3D network in 2011.
The Blu-ray Disc Association has also finalized the Blu-ray 3D standard ensuring consumers will have a single accessible format. Sony's first 3D home release will be "Cloudy with a Chance of Meatballs" in Q2. Disney will begin releasing 3D titles in Q4 of 2010. As with many new formats, the 3D Blu-ray standard introduces some new issues. The first issue is more technical and content-oriented: the 3D standard only supports 24 frames per second which limits high-speed cinematography (losing the extra frames of films shot in higher frame rates such as nature films). The second is similar to the introduction of Blu-ray and the subsequent obsolescence of DVD players: 3D Blu-ray discs are not required to be backwards compatible with 2D Blu-ray players (even if they have a 2D version of the film on the disc simultaneously). This should be less of an issue since a 3D-capable Blu-ray player will be required to view the 3D discs (and will support playing 2D discs). On a positive note, existing PlayStation 3s will be firmware upgradeable to support Blu-ray 3D. Similarly, existing Mitsubishi laser projection HDTVs are already 3D-capable and only require Mitsubishi's yet-to-be-priced-but-apparently-"affordable" 3DC-1000 adapter to convert 3D material into a compatible format for processing by the display.
On the media server front, Moore's Law is creating new graphics technologies that are allowing set-top devices, even those powered by measly Intel Atom processors, to deliver full 1080p video. A slew of network-capable media devices mean media libraries can finally be centralized for easy access. In my home theatre setup, my Blu-ray, DVDs and other media are stored on a server, allowing anyone on the network to access them with full menus, surround sound and extended features. The interface is intuitive, simple, customizable and extendable. Think of Sony's XcrossMediaBar on steroids. Boxee has partnered with D-Link and will soon be releasing an "under $200" (USD) set-top device with HDMI and Toslink outputs (great for those with older receivers that don't support HDMI audio). The Boxee uses an innovative double-sided RF remote with media control keys on one side and a full QWERTY keyboard on the other. Its Internet connectivity capability allows it to access social network sites, video sites, and other assorted online media like CNN, BBC and other sites with streaming video. While Netflix and Hulu are still USA-only but when they eventually arrive in Canada, they will be natively supported by Boxee too. It also plays slideshows, your music collection (in lossless, if available) and allows you to surf the Internet from the comfort of your couch. Syabas, makers of the popular Popcorn Hour also introduced the Popbox, a bay-less C-200 equivalent at lower cost. All these media servers will play all the common media formats (AVI, WMV, MKV, MOV, MP4, etc.) ensuring compatibility with all existing media. If you don't already have some sort of home theatre PC or net-/set-top, 2010 will be the year to get one.
Continuing the connectivity angle, many new TVs are Internet-connected (through either Ethernet or built-in WiFi) with offerings from Sony, Vizio, Samsung and others capable of accessing streaming video sites and even their own application store. Your HDTV could soon be the central place for email, online news and YouTube (now in 1080p HD). Watching Internet videos with friends in a home theatre environment is much more entertaining than huddled around a PC monitor, no matter how big.
As with all technological innovations, there are always the products/prototypes/concepts that are made simply to show off the realm of possibilities – even if they'll never make it into mass production.
If you've had a chance to see the 1080p 100 inch Panasonic plasma at Toronto's Bay Bloor Radio, you'll undoubtedly already be in awe of its size and magnitude. Panasonic kicks it up another notch with their latest display that you'll never buy, a 152 inch quad-HD 3D-capable plasma display. That's 4,096 x 2,160 in 3D. It's like having your own IMAX theatre in your already very large, expensive home. Sony also had a 24.5 inch OLED TV on display. Its ultra-thin form factor and stunning colour, clarity and brightness make being patient for large-scale, mainstream OLED technology difficult. To compare, the current Sony 11 inch OLED TV still demands $1,999 CAD at SonyStyle which speaks to how difficult and expensive OLED manufacturing still remains.
Back to reality, on the gaming front, the most exciting development is from Microsoft for the Xbox 360. Project "Natal" looks poised to change the player-game interaction in video games in a revolutionary way that exceeds how even the Wii, with its motion-sensitive Wiimote and Wii Fit board, did previously. Project Natal completely removes the intimately familiar controller and replaces it with the players themselves. Full multi-player depth-aware motion capture along with multiple 3D microphones allows games to engage the players as never before. In the live demos shown, a gamer played a combination dodgeball-Brickbreaker game, utilizing their entire body to jump and dodge as well as kick and swat balls. In another demonstration, two players collaborated to draw on a virtual canvas, using their bodies to form an image. It is reminiscent of early motion capture games like the one at the Hockey Hall of Fame where the player is a goalie, blocking pucks, but worlds more advanced. The fluid, accurate motion capture of anything from just the hands on the imaginary wheel (for first-person racing games) to a player's entire body (for perspectives such as third-person skateboarding) brings a level of interaction and engagement that will fundamentally change the way video games are developed and played. It will also get gamers, some of whom aren't always the most health-conscious, off the couch and onto their feet. The continued success of the Wii's controller has seen other gaming companies rush to catch up as well as other electronics manufacturers adopt it in non-gaming devices. Sony is set to release a motion controller in the fall, tentatively dubbed the "Arc" and some of LG's latest HDTVs use a wand-like controller that allows swiping motions to change channels or make other adjustments. If you've ever used a Gyration In-Air device, you'll be familiar with how intuitive and natural using a motion-capable device is – it really is like an extension of your body. It shouldn't be long before Logitech adopts accelerometer-enabled features in their line of Harmony devices.
While we're still years (if not decades) away from watching interactive, multi-angle holograms in our living rooms, the devices and technologies showcased at CES 2010 are extremely promising and should bring a new level of realism and connectivity to home theatres everywhere. Place- and time-shifting are becoming more mainstream and soon, you'll be able to watch your high-def media anywhere you want: at home on a portable media player/tablet, on the road through a high-speed cellular connection or on any Internet-connected computer.
For up to date news and discussions about 3D HDTVs and players visit the CANADA HiFi forum at https://novo.press/forum