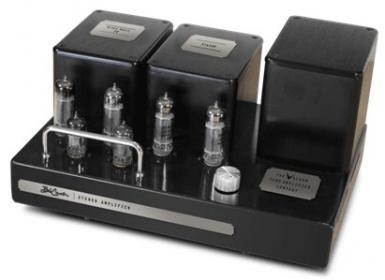 Bob Carver LLC, has just announced that their new Little Black Beauty amplifier, model VTA20S, is coming soon.    The Little Black Beauty is a 20 watt per channel vacuum tube stereo amplifier.  A screen voltage regulator and DC restoration circuit minimizes crossover distortion and output tube power dissipation.  With a 1.5 ohm output impedance coupled with current and voltage feedback loops the Little Black Beauty has the ability to listen to the room via acoustic feedback from the speakers and in turn deliver a larger acoustic space depiction.  
The new stereo amplifier is conservatively rated at 20 watts per channel into 2 channels or 40 watts per channel when used in single channel mono mode.  The amplifier features auto biasing and low idle current to provide extended life to the EL84M output tubes.
Specifications:
Input Impedance: 20K ohms in stereo, 125K ohms in mono
Nominal Voltage Gain: 26dB (into 8 ohms)
Input Tubes: 12AX7B
Output Tubes: 1 complementary pair of EL84Ms per channel
Rated Power (Stereo): 20 Watts
Rated Power (Mono): 40 Watts
Speaker Impedance: 4 to 16 ohms
Noise: Better than 96dB A weighted ref. into 20 watts
Frequency Response: 8 Hz to 40 kHz (-3dB)
Full Power Bandwidth: 26Hz to 43 kHz without filters
Distortion: Less than 0.5%
Hum: -100dB
Generator Source Impedance: 1.5 Ohms
Weight: 17 pounds
Color: Black with silver fleck and silver trim
Country of Origin: Point-to-point hand wired in the United States
Warranty: 7 years (1 year on tubes)
The Little Black Beauty / VTA20S lists for $2,100 U.S. and will begin shipping this July 2012.  Look for more details to come at: www.bobcarver.com.