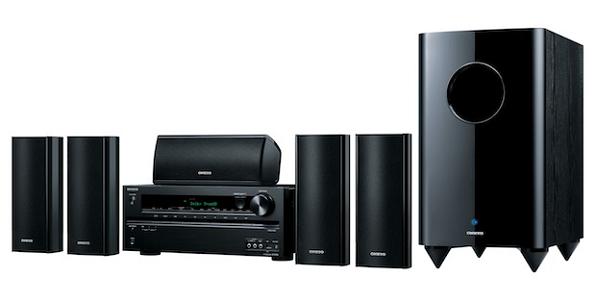 Onkyo has introduced two new home theatre systems, their HT-S6500 and the HT-S7500. An all-new feature included with both these HT systems is InstaPrevue, which provides aid in source selection through a picture-in-picture display of all HDMI connected video signal feeds.
Incorporating a Marvel Qdeo video processor provides both the HT-S6500 and HT-S7500 the capability for native HD video and up-scaling of low-res video to 1080p or even 4K for capable displays.
The HT-S6500 and HT-S7500 have built-in networking and USB digital access to a collection of online and digital media resources.
The HT-S7500 model is a 7.1 channel system that has two floor-standing front speakers, a dedicated centre channel, four compact surround speakers, and a 120W-powered subwoofer. It also includes Dolby ProLogic IIz for the option of a front-height channel. As for the HT-S6500, it is a 5.1 channel system with more compact speakers and the same subwoofer as the HT-S7500. Both systems are powered by an 80W per-channel receiver with Wide Range Amplifier Technology (WRAT), which is an Onkyo proprietary design that promises higher instantaneous controlled power. Furthermore, both have TI Burr-Brown 192kHZz/24-bit DACs on all channels, plus a powerful 32-bit DSP processing chip.
Each model has HDMI inputs for seven (HT-S7500) and six (HT-S6500) components, respectively, as well as audio return channel (ARC). They also feature a front-panel USB port, so that one can connect his iPod/iPhone to the receiver. This port, says Onkyo, can be used with its optional UWF-1 Wireless LAN adapter and forthcoming UBT-1 USB Bluetooth adapter.
Additional receiver connections are offered for analog audio, optical/coaxial digital audio and component and composite video for legacy source devices.
Internet radio connectivity is also available, as the receivers have built-in modules for Pandora, Rhapsody, Slacker, SiriusXM Internet Radio, Last fm, and others. What's more, they are DLNA certified, compatible with Windows 7 and can support playback of MP3, WMA, WMA Lossless, FLAC, WAV, Ogg Vorbis, AAC and LPCM audio files through a local network. The receivers also support Onkyo's remote control apps for most iPod/iPhone and Kindle Fire devices.
Audyssey 2EQ is included to correct room acoustics and Audyssey Dynamic Volume to maintain optimal listening levels and dynamic range.
Finally, the HT-S7500 has powered Zone 2 and the HT-26500 has Zone 2 pre-outs. Both have 4 DSP Modes for gaming, including rock, sports, action and RPG.
The Onkyo HT-S7500 ($999) and the HT-S6500 ($799) will be available in June. Look for more details at: www.onkyo.ca.