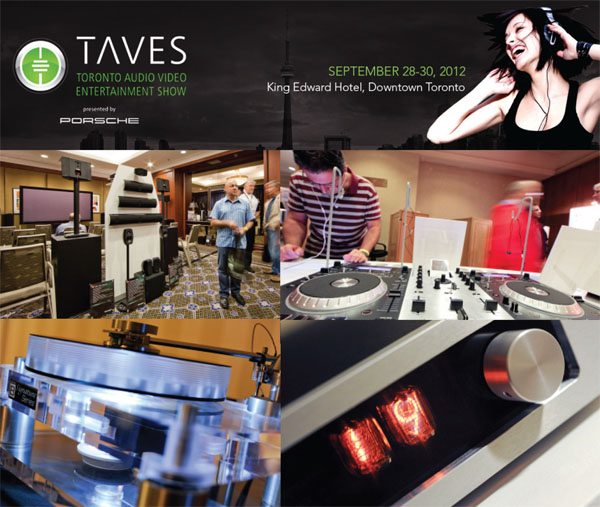 Do you enjoy listening to music or watching movies? Perhaps you're thinking about setting up a home security system or some outdoor lighting? Have we got a treat for you then! The Toronto Audio Video Entertainment Show (TAVES) is all about discovering new consumer electronics brands, products and entertainment media. It is also about educating visitors about various product categories and technology, as well as promoting smart buying decisions. TAVES caters to both consumers and industry professionals – it is recommended that industry professionals visit the show early on Friday. Last year's inaugural edition of TAVES was a glowing success. The show attracted exhibitors and visitors not just from across Canada but from many other parts of the world. This fall, TAVES, presented by Porsche, will return to the King Edward hotel in downtown Toronto from Friday, September 28 to Sunday, September 30 with a much bigger bang – offering a significantly greater number of exhibitors, brands and product categories as well as some fantastic new show features. Some 65 exhibitors will showcase more than 300 different consumer and commercial electronics brands all under one roof – the show will span nearly three and a half floors of the King Edward hotel. The 2012 TAVES promises to bring the most comprehensive number of product categories under one roof and provide visitors an entertaining experience like no other show of its type.
We are thrilled to announce that the 2012 TAVES will feature demonstrations of many more product categories than last year's show. The various categories that you can expect to experience this year will include 2-channel music systems, home theatre systems, headphones/earphones, headphone amps and DACs, computer speakers, mirror/glass TVs, security systems, lighting systems and even tablet and smartphone accessories. There will also be plenty of products for purchase at the show like headphones, earphones, CDs, records, concert Blu-rays, tablet and smartphone accessories, and much more.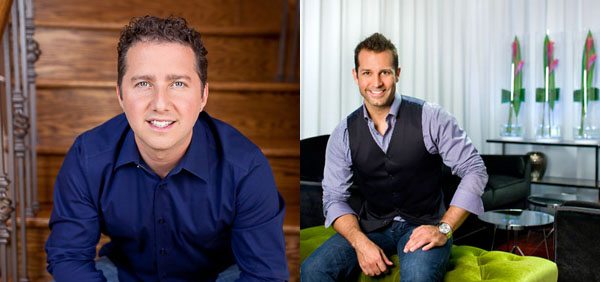 A new, significantly bigger seminar space will offer visitors a chance to learn from experts about the latest audio video entertainment options, room and equipment setup tips, buying a new TV set or projector, the benefits of display calibration, and much more. There will be approximately 10 entertaining-yet-educational seminars this year, ranging from beginner topics to more advanced ideas. Two of the seminars will be presented by special guests and television personalities Marc Saltzman, Canada's foremost technology expert and Yanic Simard, one of Canada's top interior designers. So kick back and learn something new in a laid back environment, while grabbing a drink and a snack from the café inside the seminar room. And if all of this wasn't enough, a number of interactive seminars set up inside other smaller rooms will give visitors an opportunity to make product comparisons in intimate, home-like environments.
Let's take a look at some of the highlights of this year's show.

In a ground breaking move for a consumer electronics show, the 2012 TAVES will be presented by Porsche, one of the finest car manufacturers in the world. In addition to being the headline sponsor of this year's event, Porsche will give TAVES visitors an unprecedented opportunity to jump inside the 2012 Porsche 911 Carrera S and experience the new top-of-the-range Burmester High-End Surround Sound System. But sorry… no laps around the hotel lobby.
In a similar move, Burmester, a very exclusive German audio manufacturer, will demonstrate an exotic $500,000 audio system during the Saturday evening performance. A DJ, together with a group of performers, will round out the evening's entertainment. We invite all TAVES visitors and industry professionals to join us for a few cocktails! The Burmester system will consist of audio components from the company's flagship Reference Line: four B100 loudspeakers, four 911 power amplifiers, the 077 preamplifier, a pair of the 100 phono preamplifiers, as well as the 948 power conditioner. In addition to this, Burmester will use TAVES as a launch platform for its brand new 111 Reference Line Musicccentre, to be shown for the first time in Canada. The 111 Musicccentre is a cutting-edge digital playback server which offers outstanding audio quality and features a built-in preamplifier, on-board music storage as well as an attractive suite of analog and digital inputs. It is capable of music playback from its internal storage or from a home network and can be controlled by Apple devices and web browsers. Of course for most of us everyday people, a music system of this caliber is nothing but a fantasy – think of it as a supercar at an auto show. However the good news is that Burmester does offer components in much more achievable price ranges, many of which offer trickle-down technology from their high-end siblings. Burmester will be demonstrating some of these more affordable components in another room at TAVES.
As mentioned above, the 2012 TAVES will witness a dramatic improvement in education offered at the show, thanks to a well-rounded range of informative yet fun seminars, presented by industry experts. Among our presenters will be two distinguished guests – Marc Saltzman and Yanic Simard. Marc has reported on the high-tech industry since 1996 as a freelance journalist, author, lecturer, consultant, and radio and TV personality. Yanic is a top designer and television personality that has been featured in many Canadian and international publications – you might also recognize him from his regular design guest expert appearances on the Canadian acclaimed #1 Citytv show Cityline. The new TAVES seminar space will accommodate a lot more visitors and feature a café at the back of the room that will offer a relaxed atmosphere for those who wish to sit closer to the back of the room and chow down on a snack or enjoy a coffee. All of the seminars are free, with admission, offer non-brand specific advice from industry experts and you certainly won't be pressured to buy anything. The 2012 line-up of seminars confirmed at the time of this writing includes the: Entertainment Rooms and Interior Design, TV Buyer Guide – LCD, LED, Plasma and OLED (2D and 3D), TV / Projector Calibration, Why Should You Consider Upgrading Cables in Your System, Introduction to Digital Music Files and Playback, as well as The Future of Music Entertainment. Following each seminar, visitors will have a chance to ask the presenters a few questions. More seminar topics will be confirmed a little closer to the date of the show – for a complete list of topics and the schedule, please check out the 'Seminars' page on www.taveshow.com.
Like last year, there will be an impressive number of 2-channel music systems for everyone to listen to at TAVES – in fact there will be so many amazing systems on demonstration that serious music fans should consider purchasing a multi-day pass to the show this year. But the 2012 TAVES will also showcase many more home theatre systems than shown at last year's event for the simple reason that more and more consumers are integrating home theatres into their homes. An outstanding example of this is a Canadian distribution company called Pacific Cabling Solutions (PCS) which will be outfitting the largest room at the show with a $50,000 home theatre system. This state-of-the-art system will consist of MK Sound speakers, Marantz electronics, a commercial 3D projector from LG, a Grandview Crystal Screens 3D projection screen, Palliser home theatre seating (with LED lighting and the Buttkicker Individual Seat Control System) and more. For those of you not familiar with MK Sound, the company is a legendary speaker maker that has long been the brand of choice for professionals in the music and movie industries. MK Sound speakers have been used for sound mixing and editing of countless movie soundtracks including Star Wars Episodes I through III, the Lord of the Rings trilogy, Pearl Harbour, Black Hawk Down and many more. It is also the speaker brand of choice by companies like Dolby Labs and DTS. In fact, MK Sound is considered as the #1 speaker in the world by the Skywalker Ranch. Partnering these speakers with electronics from Marantz and LG's latest 3D projector will excite your senses like never before. Whether you're a movie buff, a video gamer or enjoy listening to Blu-ray concerts – this is one demonstration you won't want to miss!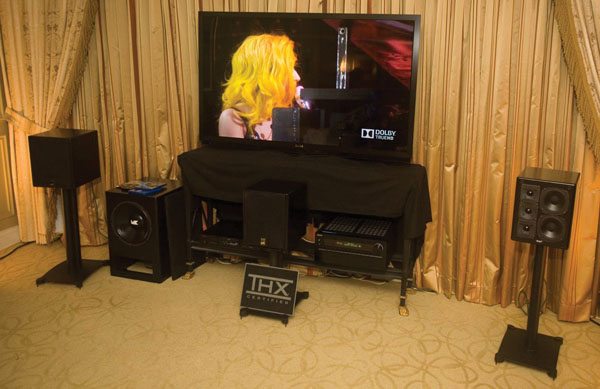 And Pacific Cabling Solutions' involvement in the 2012 TAVES doesn't end there. The company will also be demonstrating a number of other products including LG commercial/home products, Aeria invisible TV mirrors and speakers, CAST outdoor landscape lighting systems, Ascendent security systems, TPS surge protection, Factor commercial audio systems, Cascade Acoustic panels as well as Mount Werks commercial and home equipment racks. This is just a sampling of the product lines that PCS will share at the 2012 TAVES, so be sure to check out their multitude of displays at the show and look for their ballot box for a chance to win some very exciting products.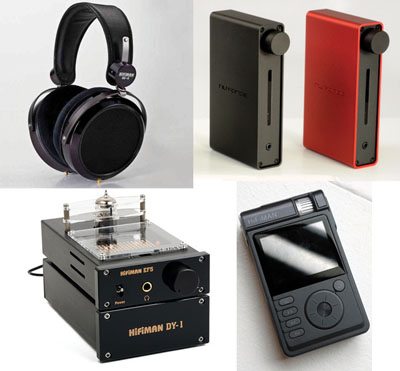 If you're looking to purchase your first pair of headphones or earphones, or looking to upgrade your old pair, you'll be glad to know that this year's TAVES will feature a larger number of exhibitors demonstrating these products – some will also be selling them right at the show. The companies that have confirmed to display headphones/earphones and various accessories at the time of this writing include Paradigm, Bose as well as distributors VMAX Services and Atlantia. Paradigm will display its SHIFT line of products, while Bose will shows its line of QuietComfort headphones. VMAX Services will showcase two of its desktop audio and mobile product lines in a large display area, inside the Vanity A ballroom. Among the products demonstrated by VMAX will be a full line-up of products from HiFiMAN, renowned for its earphones, orthodynamic headphones, tube and solid state headphone amps and portable music players. Also on display and ready for demonstration will be the complete line of NuForce products – ranging from earphones to desktop audio and even high-end wireless DACs (digital to analog converters). Atlantia, a distributor of technology products for the PC & MAC market, accessories for Apple devices and various lifestyle products, has confirmed to bring at least four of its brands to the 2012 TAVES. These include SMS Audio (wireless and wired headphones/earphones endorsed by 50 Cent, and accessories), AudioEngine (powered computer speakers, compact amplifiers, wired and wireless DACs, and accessories), Etymonic (earphones, kids earphones, headsets and hearing protection) and LOGiiX (unique cases and accessories for Apple products and other tablets and smartphones, as well as computer accessories).
If you enjoyed what you read above, you'll be glad to know that this is just a small sampling of what the 2012 Toronto Audio Video Entertainment Show will offer. If you'd like to discover and experience many of the latest entertainment options and consumer electronics there is truly no better place to go than TAVES. So bring your family and friends and have some fun! The 2012 TAVES will take place at the King Edward hotel in downtown Toronto from Friday, September 28 to Sunday, September 30. Tickets are $22 and you can save $5 by purchasing your ticket directly from www.taveshow.com or by printing a coupon from the TAVES Facebook page at www.facebook.com/taveshow. For more detailed information about TAVES, please visit www.taveshow.com. We sincerely hope to see everyone there! Check out the following page for a list of some of the brands (confirmed at the time of this writing) that will be shown at the 2012 TAVES.